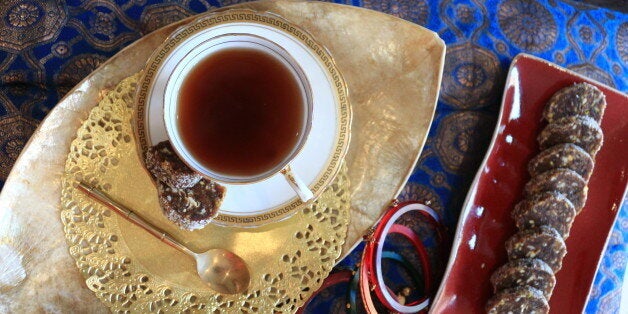 Happy Diwali! Being one of the most significant celebrations in Indian culture, we figured you might be in need of some tasty recipes to impress your friends and family with this evening.
Today will see millions of Hindus, Sikhs and Jains come together to celebrate the triumph of light over darkness and good over evil. So what's on the menu for such a momentous occasion?
Fabulous foodie, Mira Manek shares a selection of savoury and sweet snacks to dish up during the celebrations.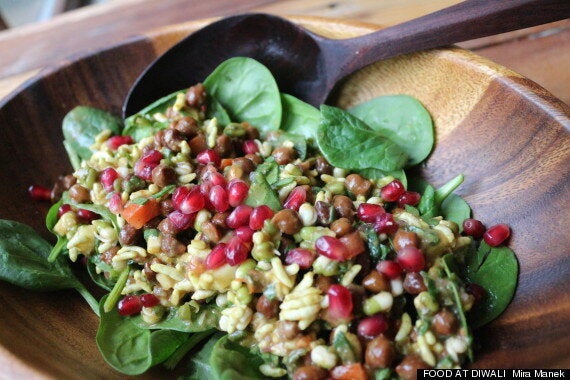 There's an element of surprise with each bite of this salad. The slight khatta or tangy taste from the tamarind, then the sweetness of the dates and apples, the spicy kick from the red chutney, momentarily intense yet subtle, and then of course the crunchiness of the puffed rice, biting into the leaves and sprouts, and that bright and distinct flavour of coriander.
Blend the following ingredients together until it's a thick smooth liquid:
2-3 green chilies (optional)
Blend together the following ingredients:
1-2 tablespoon red chilli powder
You can buy this readymade in most supermarkets. Or boil these ingredients together for fifteen minutes and then sieve the juice from the blend:
¼ teaspoon fenugreek seeds
180g brown chickpeas (kala chana)
110g sprouted green lentils
120g pomegranate, saving a few for garnishing
50g baby spinach leaves, washed and roughly chopped
Start by making all the respective chutneys needed for this recipe. You can make these chutneys as well as the puffed rice in advance. Prepare the puffed rice in a medium, non-stick frying pan on medium heat. In one teaspoon of oil, add the mustard and fenugreek seeds and curry leaves. Now add the puffed rice and stir to combine. Lower the heat if needed; be careful not to burn the puffs. Add salt and turmeric, and a few minutes later, remove from the heat and allow to cool.
Now you can begin to prepare the salad. Assemble in a large mixing bowl by adding the chickpeas, sprouted green lentils, pomegranate seeds, diced apple, baby spinach leaves and flavoured puffed rice. Add 2 tablespoons of natural yoghurt, and 1 tablespoon of each of the chutneys and toss together.
Experiment with the chutneys by adding more of whichever flavour you prefer. Place salad into a serving platter and sprinkle a few extra pomegranate seeds over the top to garnish. Serve immediately.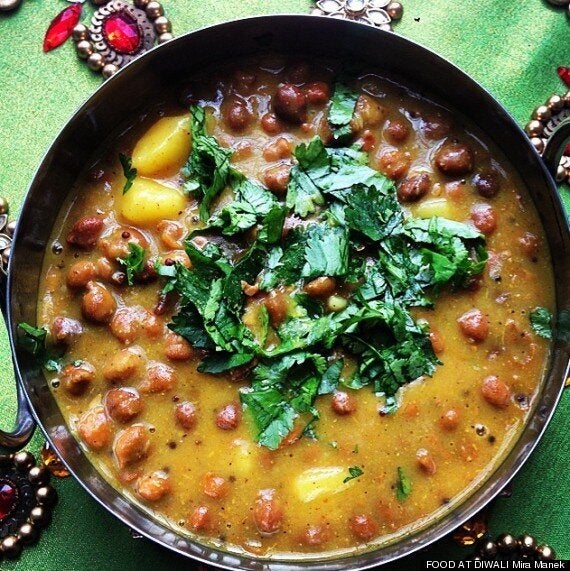 This is one of my favourite Diwali dishes, especially as it's served hot and is deliciously tangy. It lies somewhere between a curry and a stew with tamarind chutney as the main and transforming ingredient, and works as a great complement to the Bhel salad.
1 tin black chana (400g ready boiled black chickpeas)
2 tablespoons coconut oil
½ teaspoon coriander powder
4-6 tablespoons tamarind and date chutney
Coriander, for garnishing
Start by draining and washing the black chana (black chickpeas). Peel and cut the potato into small cubes and wash. Now heat the coconut oil in a pan on medium heat, add the mustard and fenugreek seeds and wait until the mustard seeds pop and fenugreek seeds become brown before adding the asafetida. Immediately stir in the potato pieces and quickly place the lid on the pan while the mixture the sizzling.
Add in the turmeric, coriander and cumin powders as well as the salt, and mix together well. Leave the potatoes to cook for around 5-10 minutes, and then add 1 cup of water. Let it cook for another 5 minutes before adding the black chana and the rest of the water (2 cups). Let this mixture cook for around 15-20 minutes, until the potatoes are cooked. Stir in the tamarind and date chutney right at the end. Add more chutney if needed and garnish with chopped coriander before serving.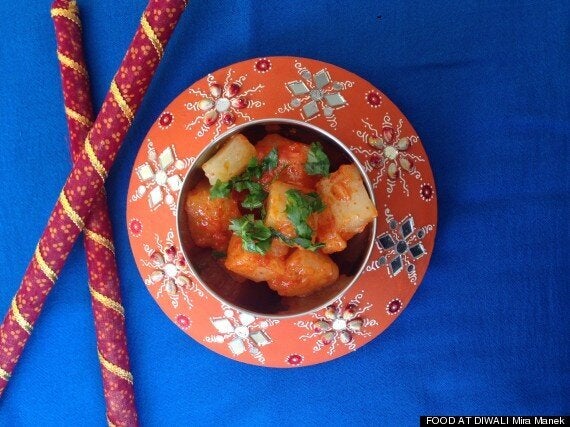 This simple and easy recipe made with the nutrient-rich root vegetable mogo or cassava is full of flavour and wholesome. It was only when my great grandparents' generation moved to Uganda that they discovered vegetables like cassava and plantain, and started to make curries and spicy stews with them. Boiling the cassava makes it deliciously soft, and enveloping it in chilli and lime offers the perfect zest.
10 cassava pieces/ chips (frozen)
1 teaspoon red chilli powder
Boil the frozen cassava in water for around 20 minutes, until it is very soft. If using a pressure cooker this should take 10 minutes. While the cassava is cooking, prepare the mixture of salt, red chilli powder, olive oil and lime juice for the dressing. Once the cassava is boiled, chop into small pieces and mix with dressing. You can add some of the thickened water/ juice from the boiled cassava to the mixture to keep it moist.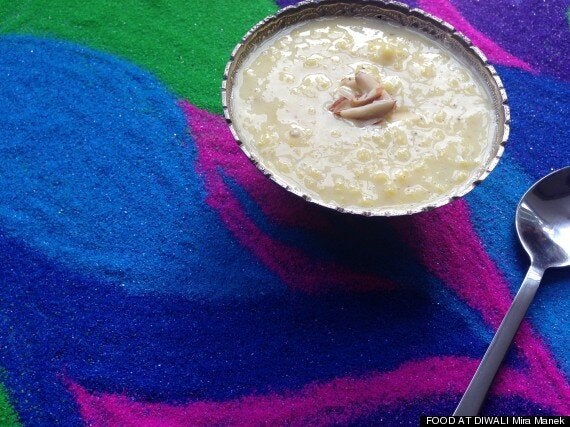 Kheer is full of celebration. The almond milk lends it a splendidly nutty flavour and the agave or honey allows you to really savour and enjoy this healthful dessert. Most importantly, the saffron, cardamom and nutmeg alter and enhance everything that the kheer offers.
400ml (6 small bowls) water
5 tablespoons honey or agave syrup
¼ teaspoon cardamom powder (optional)
¼ teaspoon nutmeg powder (optional)
Wash the rice and then cook with water in a pressure cooker for 10-15 minutes until soft. Mix the rice thoroughly and then pour in the almond milk. Add a pinch of saffron and let this mixture boil on low heat for around 10 minutes until the milk is boiling. Stir with either a spoon or a fork to soften and slightly break the rice. Add the agave or honey (add more if required, to taste) as well as the cardamom and nutmeg powder. Leave this in the fridge and serve cold. It can be eaten hot, but best served chilled. You can garnish with pistachio and almond pieces before serving.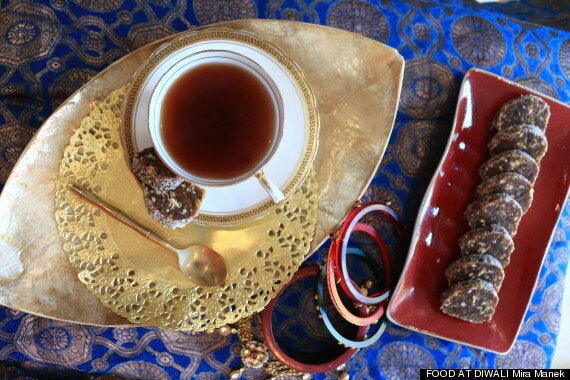 These sweet and healthy bites made with dates and nuts can be served as a mithai during Diwali, coated in white coconut flakes and laid beautifully in rows. They also make for a satisfying teatime snack.
250g pitted dates, roughly chopped
20g raw almonds, finely chopped
15g raw pistachio, finely chopped
15g raw cashew, finely chopped
4 tablespoons desiccated coconut
Using a wok, place dates over a low heat for 1-2 minutes, add the coconut oil, chopped nuts and stir together for a few more minutes. Remove the wok from the heat, pour the date mixture into a shallow bowl to allow the mixture to cool down.
Once cooled, start to incorporate the mixture into a long, round roll roughly 2-3cm thick. Sprinkle a little desiccated coconut onto a flat surface and begin to roll the log evenly. Wrap roll in cling film and then place in the refrigerator for 3-4 hours before cutting into pieces.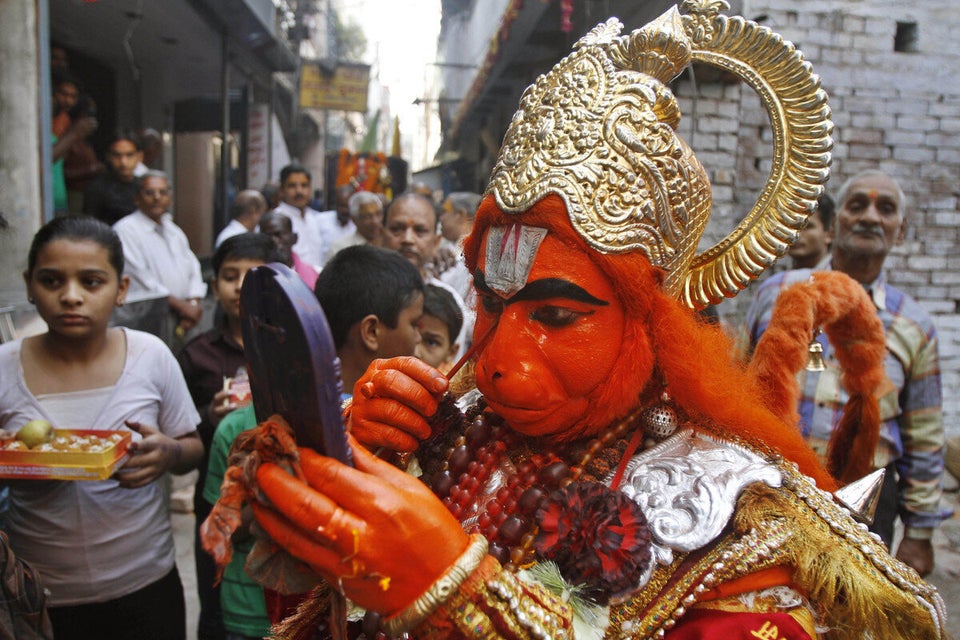 Celebrating Diwali