UPDATE: Canadian police now concede there was just one gunman in the attack in Ottawa.
The Canadian capital, Ottawa, was thrown into chaos yesterday after the country suffered its second terrorist attack in just three days.
In a shocking attack that has stunned the world, witnesses have described how a soldier posted at the National War Memorial, identified as Nathan Cirillo, was gunned down at point-blank range by a man carrying a rifle and dressed all in black, his face half-covered with a scarf.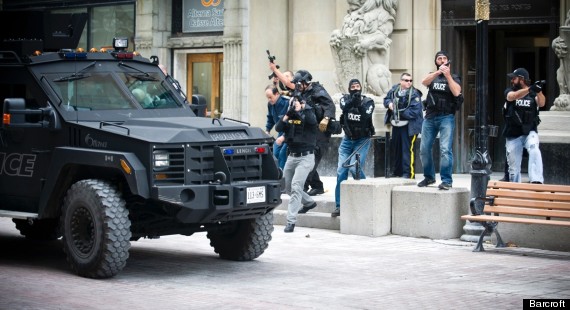 Witnesses have described how the gunman appeared to raise his arms in triumph, and was then filmed driving away to the nearby Parliament Hill.
Members of the public were then pictured desperately trying to save the wounded 24-year-old, who later succumbed to his injuries.
Incredible shot: A woman gives mouth-to-mouth to a fallen soldier at the War Memorial http://t.co/YV1UIPYJJS pic.twitter.com/1YEtcEcVM5

— Scott Bixby (@scottbix) October 22, 2014
A dashboard camera captured images of a suspected gunman getting into his car shortly after shooting the Canadian soldier
The gunman then entered Parliament, a few hundred yards away, where dozens of shots soon rang out.
Dramatic images have emerged of the moment people fled the complex by scrambling down scaffolding erected for renovations, while others took cover barricading themselves inside as police with rifles and body armour took up positions outside and cordoned off the normally bustling streets around Parliament. This is the moment that politicians and reporters cowered as a hail of gunshots echoed through Canada's parliament building, one of a number of incidents that took place across the country's capital.
SEE ALSO:
MPs, meanwhile, took to social media to live-tweet their terrifying ordeal:
Also on Twitter, Canada's justice minister and other government officials credited 58-year-old sergeant-at-arms Kevin Vickers with shooting the attacker just outside the MPs' caucus rooms.
Vickers serves a largely ceremonial role at the House of Commons, carrying a scepter and wearing rich green robes, white gloves and a tall imperial hat.
Moments after the shooting Kevin Vickers, Sergeant at Arms, walks halls of Parliament Mps call him "a hero" #cdnpoli pic.twitter.com/WgPODXGBKR

— Evan Solomon (@evansolomoncbc) October 23, 2014
Two deadly attacks in three days against members of the military stunned Canadians and raised fears their country was being targeted for reprisals for joining the US-led air campaign against an extremist Islamic group in Iraq and Syria.
"We will not be intimidated. Canada will never be intimidated," Prime Minister Stephen Harper vowed in a nationally televised address just hours after the attack.
Here, you can see how the dramatic scenes played out:
Investigators, meanwhile, have offered little information about the gunman in Ottawa, identified as 32-year-old petty criminal Michael Zehaf-Bibeau. But Harper said: "In the days to come we will learn about the terrorist and any accomplices he may have had."
Zehaf-Bibeau, 32, was raised in Quebec, according to CTV News, and was a Canadian convert to Islam, Reuters said.
Court records that appear to be the gunman's show that he had a long rap sheet, with a string of convictions for assault, robbery, drug and weapons offences, and other crimes.
It was unclear whether other gunmen remained at large, with police describing the incident as an "ongoing" operation with no-one currently in custody.
BREAKING | This is a photo of Michael Zehaf-Bibeau, gunman in this morning's shootings in Ottawa. #cbcOTT #OTTnews pic.twitter.com/OLSxlYPelj

— CBC Ottawa (@CBCOttawa) October 22, 2014
A Facebook page was set up named Rest In Peace Cpl Nathan Cirillo, which has already been looked at by thousands.
One message, from Bob Rodkin, read: "RIP Nathan. Thank you for your service and the ultimate sacrifice. So tragic, so unnecessary. My prayers go out for you and to your family, friends and colleagues."
Another message, from Olivia Marie, said: "RIP Nathan! Thank you for defending our country, your son is so proud of you. I miss you."