Lynda Carter faces further heartbreak in 'EastEnders', when she discovers that she's expecting a baby.
The Queen Vic landlady hasn't been feeling herself lately and while viewers know she was raped by Dean Wicks, the rest of Albert Square is unaware of her secret trauma.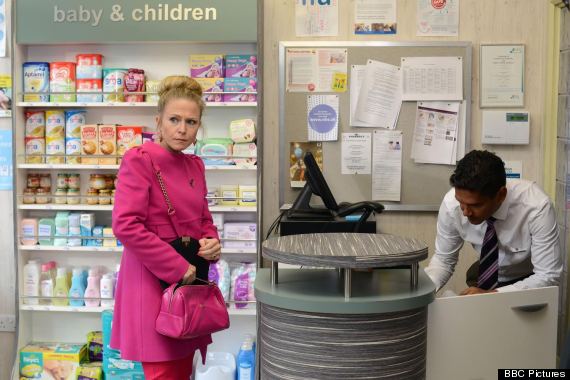 Lynda rushes out to buy a pregnancy test
After trying to get to the bottom of what could be wrong, Lynda's husband Mick suggests that he could be pregnant and a panicked Lynda rushes out to buy a test.
Later, Lynda locks herself in the bathroom to take the test and she's left even more stunned when it turns out to be positive.
Ahead of Dean's attack, Lynda was longing for another baby, however, knowing that the child could be Dean's, Lynda is now even more frightened and stunned.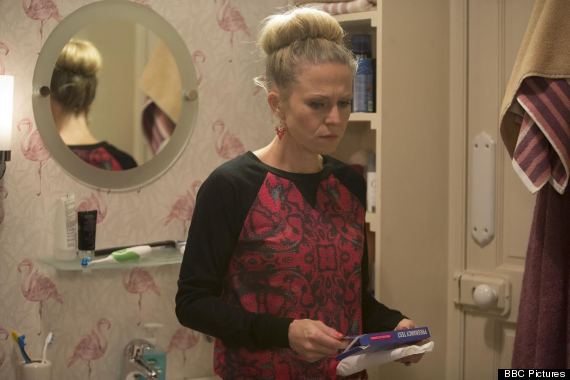 Lynda takes the test
While Lynda is yet to tell anybody about the rape, her family and friends have noticed differences in her behaviour and at Nancy's birthday party, the strain was beginning to show.
Despite the fact Mick's called in help from Lynda's mother, the landlady is struggling to reveal the truth about what happened - though the show's bosses have hinted that the truth will be revealed.
While the rape storyline received a relatively small amount of complaints from viewers, actress Kellie Bright has been praised for her portrayal of Lynda.
The Carter family are set to be a pivotal part of the show's 30th anniversary celebrations, which take place in February 2015.
Watch 'EastEnders' on 6 November to see the events unfold.
LIKE US ON FACEBOOK | FOLLOW US ON TWITTER