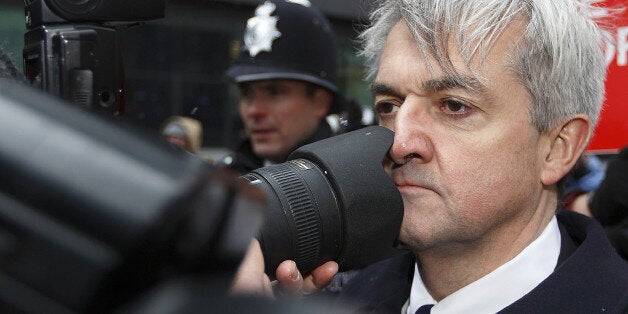 Former Cabinet minister Chris Huhne has lost a challenge against an order that he must pay £77,750 costs from his prosecution for passing speeding points to his ex-wife. Three judges at the Court of Appeal rejected his case at a hearing in London today.
The costs order was made in May by Mr Justice Sweeney at London's Southwark Crown Court. Prosecutors claimed more than £100,000 from Huhne, who pleaded guilty last February. Huhne's ex-wife, economist Vicky Pryce, who was convicted by a jury, was ordered to pay £49,200.
Huhne and Pryce have served prison sentences for perverting the course of justice after she took speeding points for her then-husband in 2003. Mr Justice Sweeney said he had ''no hesitation'' in rejecting Huhne's legal team's original offer of £25,000 towards costs.
The speeding points scandal brought about the end of Huhne's political career, forcing him to stand down as a Cabinet minister and later to resign as an MP. Rejecting all grounds of challenge, Lord Justice Davis, sitting with Mr Justice King and Judge Michael Stokes, said Mr Justice Sweeney had "reached a conclusion as to what was just and reasonable which was open to him".
At the conclusion of the hearing, Huhne, 60, was ordered to pay £1,279 prosecution costs relating to the appeal court proceedings. Rejecting Huhne's challenge against Mr Justice Sweeney's order, Lord Justice Davis said he had never objected to an order for costs in principle - his objection was to the amount.
He said: "As for Dr Pryce, she has abandoned her own application to challenge the costs order as against her." The judge emphasised that Mr Justice Sweeney "knew the case backwards", and when it came to costs it was a "question of assessing what was just and reasonable".
It was argued on Huhne's behalf that the sum the judge ordered him to pay was "unjust". Contesting the bid for a costs reduction, Oliver Glasgow, counsel for the Crown, submitted to the court that Huhne "sought to play the system and lost".
He told the court it was a "gamble he took", and "he knew if he lost it would cost him dearly".