A mum has slammed Facebook for removing a photo of the first time she breastfed her severely premature baby daughter - because it breached their strict nudity rules.
Emma Bond posted the touching snap with Carene, who has born 12 weeks early, on Sunday, 26 October.
But the 24-year-old was left stunned when the social media site deleted the picture the same day after an anonymous person reported it as "offensive".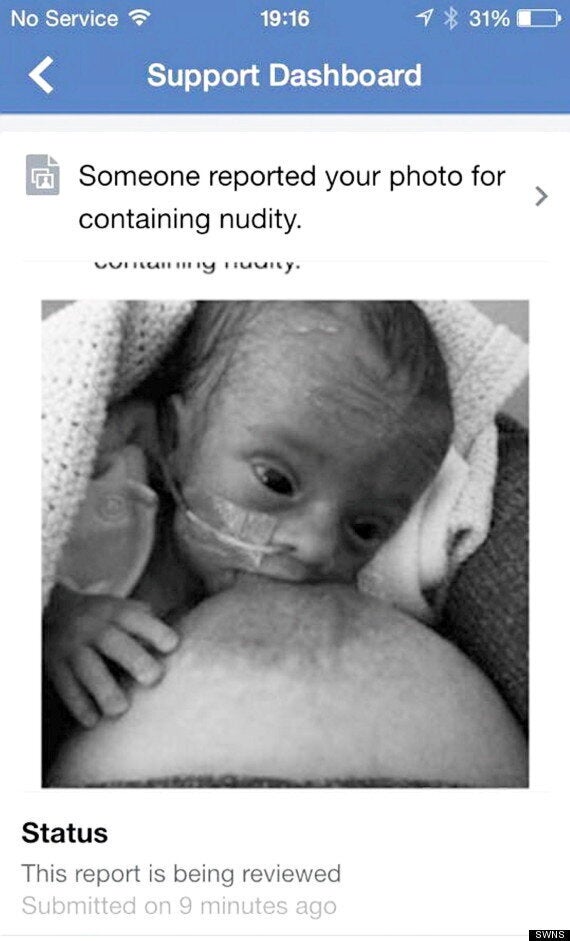 In a message from Facebook she was told they had removed the image "because it didn't follow the Facebook Community Standards regarding nudity."
The photo then went viral after Emma uploaded it to a pro-breastfeeding group - where it attracted 166,000 'likes' and 22,000 "shares".
But when other mums shared it to Facebook, they found their links were also deleted on Monday, 27 October.
Emma and her partner Ashley Kitchen, 30, were warned baby Carene wouldn't survive more than three days when she was born prematurely on October 3 weighing just 2lbs 2oz.
So when the tot breastfed for the first time on Sunday, the delighted mum shared a black-and-white snap of the moment with her friends and family on Facebook. Yesterday (Wed), mum-of-two Emma, who lives in Oswestry, Shrops., with Ashley and her two-year-old son Luca, said: "Carene was born by emergency caesarian section.
"We were told to get the priest in, she wasn't meant to last past her third day.
"Premature babies are prone to bleeds on the brain and she had a bleed on her lungs also.
"She was born with an infection, she had a lot going on.
"We don't know the outcome of the brain damage but she is able to move and open her eyes and look around and feed which we were told would be unexpected.
"The original photo was only viewable by my friends and family who have followed my story. Everyone was aware it was touch and go so I was sharing the special moment with people to show them how far she had come.
"It was the first time she had breastfed so there was a reason for me posting that particular particular.
"It was a magical moment and to have it removed the same day for breaching nudity policies was really rubbing salts in the wounds.
Story continues below the slideshow: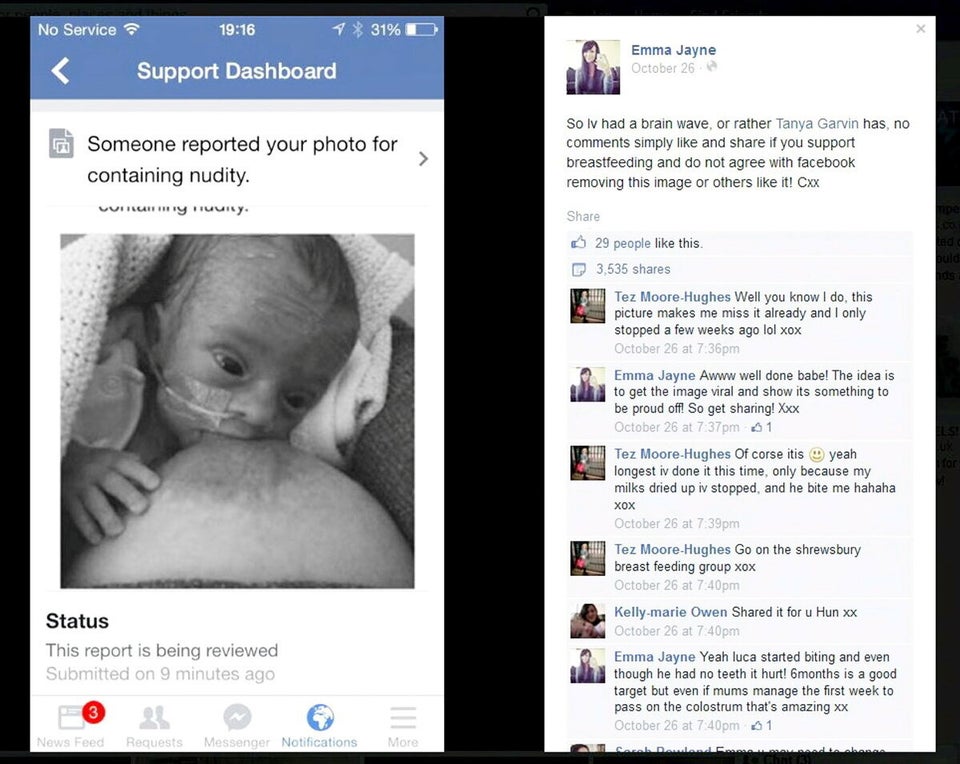 "The picture represents more than just me breastfeeding my newborn baby.
"Carene is very poorly and we fought very hard to get to this point.
"I was upset when it was reported. It is something very natural and special and should be promoted."
Emma and Ashley, who owns a children's soft play centre, are still travelling to the Princess Royal Hospital in Telford, Shrops., every day to see baby Carene.
After receiving hundreds of complaints from angry mums, Facebook performed a U-turn and reinstated the tastefully-shot photo.
The full-time mum - who has received hundreds of messages of support from around the world - said she was pleased the social media giant had now updated their policy.
She added: "It's something very natural, very special, and something that should be promoted.
"The thing for me is that I see so many animal cruelty or beheading or child abuse images on Facebook and report them myself but nothing gets done.
"But something as precious and natural as this is removed instead. I know they have put the image back up but it shouldn't take thousands of people to make a stand for that to happen.
"I still haven't got an explanation or apology. It was out of order for Facebook to remove it but at least it's had a positive impact.
"However it really is a shame that breastfeeding is still frowned upon."
Sarah Crown, editor of parenting website Mumsnet, said she was "not surprised" someone had complained about the original post.
She added: "We have a problem with photos of women breastfeeding on Facebook because they involve breasts."
A spokesperson for Facebook said breastfeeding photos have never been against the firm's Community Standards, but nipples had to be covered or concealed.
In a message to Emma, Facebook said: "The image that you shared was removed in error - it has now been republished.
"The policy has been updated, Facebook modified the way it reviews reports of nudity to better examine the context of the photo or image.
"As a result of this, photos that show a nursing mothers' other breast will be allowed even if it is full exposed, as will mastectomy photos showing a fully exposed other breast."