Polar's V800 exercise watch is out now starting at £349.99
You don't have to be a card-carrying futurist to see where we're going with smartwatches and fitness trackers.
They're about to become the same thing.
Right now it's possible to justify both: a smartwatch is a theoretically elegant, multi-use, but battery limited all-day device. A fitness gadget is a dedicated, longer-life, durable piece of equipment, monitoring more data, more accurately but something which is not really that bothered about checking your email.
That division won't last. Smartwatches are getting better, quickly. For every new iteration battery life will improve, the sensors will get better, the price will come down, and eventually, if you're sold on the concept in the first place, you'll probably just make the compromise and have one multi-function thing on your wrist.
This might be a bad thing for the smaller-scale specialists, like Polar, in terms of hardware sales. But like smartphones for GPS maps, the result for consumers will be better design, cheaper prices, and a simpler life.
We're not there yet though. Smartwatches are currently interesting, but technically pretty feeble. The most ambitious of them all, the Apple Watch, isn't out yet. And when it comes to serious data tracking for committed athletes (or techie amateurs) you'll still need to get your hands on an exercise tracker, for good or ill.
The Polar V800 is one of the best of these we've tried in a very long time. It's a remarkably solid, functional, deep piece of expert-level tech. It's just it feels a little bit like staring into the past, not the future...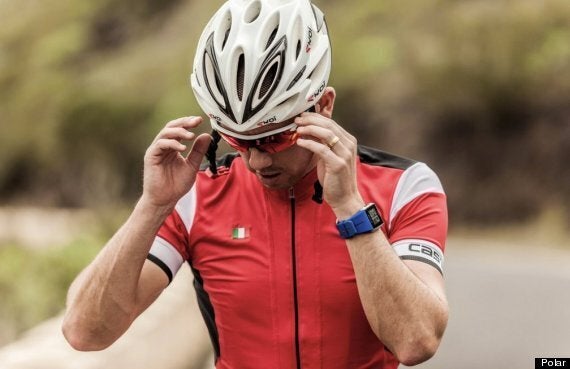 Our first impression on holding V800 was that this is a clean, deliberate design, but a somewhat boxy, chunky and unambitious one too.
The V800 has a small Gorilla Glass-covered, old-school screen set in stainless steel with a polyurethane strap. It's comfortable but it's large, and it makes its presence known on a long run or cycle. Yes, it fits securely, is durable and straightforward to operate with textured buttons and an adjustable backlight. But it's pretty uninspiring-looking, and doesn't seem that bothered about making you fall in love with its colourful curves, unlike the recent TomTom GPS Multi-Sport, for instance.
It's also a problem since 24/7 activity training is a key part of the package. It's not necessarily a watch we'd want to wear all day, and that's an issue.
In fact everything about it is just a bit inelegant. The USB charger is just a big clip that attaches to a weird, circular panel on the back. The Bluetooth heart rate monitor that comes with the £399 package is also quite big, and feels increasingly old-school when so many other watches are switching to on-board HRMs.
This straightforward, old-fashioned design also extends to the software, which is your basic up/down, back/select sliding screen interface, and the low-res screen. It's decent enough for glancing at on the fly on a run, but you won't like it. And you'll be less than thrilled when you actually have to use it for more than stopping and starting a session.
All of which sounds rather negative. But there is a big upside here, which is that if any of this stuff matters to you, you're probably not the user for whom the V800 is actually designed.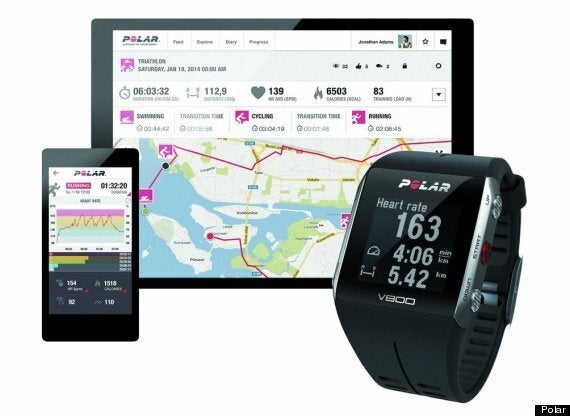 The V800 is pitched as an expert-level training device. And that's exactly what it is. This is a watch that uses GPS, heart-rate and an intense, rigorous calculation and analytics engine to drag you kicking and screaming into the realm where Data transitions into glorious, horrifying Insight.
What does that mean? It means that as well as your daily activity and the time/distance/altitude/speed of your various runs, cycles, swims and rows, and dozens of other sports, the watch will understand everything about your performance, down to the quality and effort you're putting in over different areas of the course and your estimated recovery time. Yes, you can trust this data beyond most reasonable expectations. But you can also expect the watch to turn it into manageable, actionable insights, such as training load, on the fly. And that's a big deal.
Much of that insight will take place in the Polar Flow app, to which the watch syncs slowly, but wirelessly, and the associated website. Both are nicely designed, clean and inviting. They provide a good place to edit the watch's more complex settings, like which data to display during which activities, but could use more export options for sending data to other services.
The watch also has a number of features designed explicitly for committed athletes, from a Triathlon multisport mode and Orthostatic and Fitness Tests. Again, all of this stuff is directed at committed users prepared to get the most out of their watch.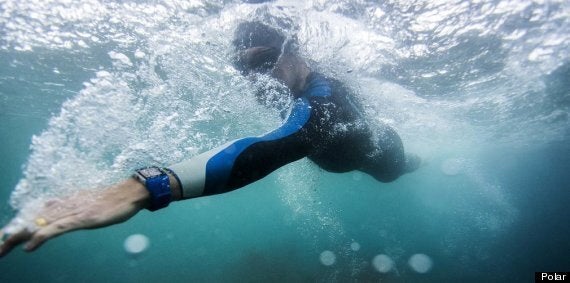 In terms of the other key basics, the V800 delivers. It has a 14-hour training time battery (which can last 30 days in 24/7 activity tracking mode with GPS off). It can be used to track heart rate when swimming, and is compatible with a number of other accessories for extending its data collection, for instance when cycling.
Polar also add that the watch is designed to be extendable, promising features like SMS notifications and music controls coming in the future.
The overall effect is of a watch which is straightforwardly great at its intended function, and will provide a heap of data to training fanatics or professionals. We enjoyed using it, and found the data it collected genuinely fun to engage with and deconstruct.
But it's also a device which, for those just below that line of need, might not be great value for money. You might find that other, cheaper devices - even Polar's own Loop bracelet - will provide you with the same insights for much less hassle.
Moreover, this is not an exercise watch that is living in a post-Apple world. It's a solid, durable device, but it's ripe for disruption. The true smartwatches are coming for the Polar V800 et al, and you wouldn't bet against them taking the lead in this race - and sooner than you think.