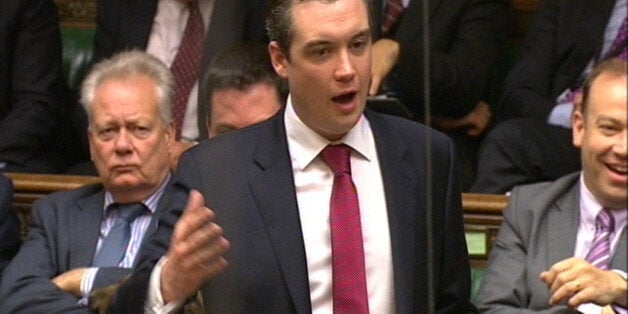 A Tory MP has sparked controversy after suggesting there was "more than a hint of party politics" behind the launch of a clothes bank outside his constituency "six months before an election"
James Wharton, member for Stockton South, told ITV that the Durham Socialist Clothes Bank was "as much about making statements about politics as it is about doing good things". He added: "I welcome one, I'm not convinced about the other."
Critics accused Wharton of making remarks that were "beneath him". Alex Cunningham, Labour MP for Stockton North, told the Huffington Post UK: "It is really quite sad that an initiative borne out of care for the poor and less fortunate in our community can be criticised negatively by anyone.
"I see it as a community response to political failure by James Wharton's government to have a recovery for everyone rather than just the better off in the South East of England.
"With his privileged public school background Mr Wharton may struggle to identify with people who are in need but I would have thought the kind of criticism he made would still have been beneath even him.
The clothes bank is run by members of the Durham Unite Community, the non-industrial wing of the Unite Union "created to empower people outside the labour market to use the trade union values of solidarity and collective action to improve their own and others' situations".
The bank was set up earlier this week, aiming to offer clothes to anyone on benefits, with it operating alongside a well established food bank. Organisers warned that government benefit changes were increasing hardship.
Dawn Wilson explained to ITV: "If your benefits have been stopped, how can you budget when there's no money coming in? They can't afford the gas, they can't afford the electricity, can't afford food and clothing comes further down the line."
In response to Wharton's remarks, a spokesperson said: "To seek to undermine the huge amount of voluntary effort spent by our members getting the clothes bank up and running in order to score cheap political points is unacceptable."
Wharton hit back, telling the Stockton Gazette that he did "support all well intended community efforts", but that he wondered why "they also need to issue highly political press releases to go with them".
Popular in the Community