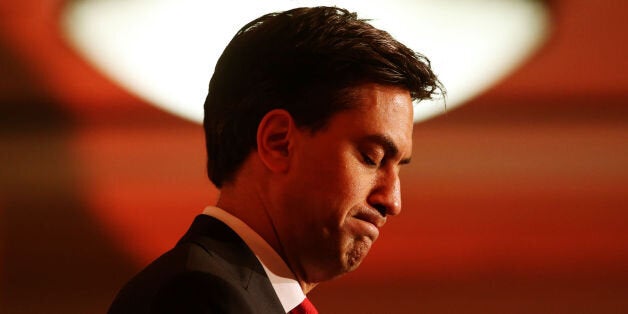 Labour would be left with just four seats in Scotland if a general election was held tomorrow, according to a poll.
The poll puts Labour support at 23%, support for Conservatives at 10%, Liberal Democrats at 6%, the Greens on 6% and others at 3%.
The findings mean the SNP could secure 54 seats at Westminster, with Labour taking four and the Liberal Democrats one, according to the Electoral Calculus website.
Ed Miliband would find it almost impossible to win the election in seven months time without a holding onto a subsantial number of Scottish MPs.
Election expert professor John Curtice said: "According to STV the estimated 25% swing from Labour to SNP would leave Labour with just four seats and give the SNP 54. If we were to assume there was a 25% swing everywhere, the Labour figure could in fact be just one, with the SNP on 57. Either way, anything approaching such an outcome could destroy Ed Miliband's hopes of becoming Prime Minister."
According to the poll, the only Scottish Labour MPs to survive would be Willie Bain in Glasgow North East, Tom Clarke in Coatbridge, Chryston and Bellshill, Gordon Brown in Kirkcaldy and Cowdenbeath and Ian Davidson in Glasgow South West.
Shadow leader of the Commons Thomas Docherty, who is a Scottish MP, earlier told BBC Radio 4's World at One programme that the party was in a "dreadful position".
"We've got to be honest about ourselves. We have very low esteem with the electorate. The electorate looks at us and has no idea what our polices are. We have a moribund party in Scotland that seems to think that infighting is more important than campaigning," he said.
"And we have a membership that is ageing and inactive. We can return to be the grown-up party that wants to be in government or we can self-indulge like a throwback to the 1980s and watch our party implode, the SNP win again, the Tories win again, and have another referendum."
The result would radically alter the electoral map in Scotland, as the graphic produced by Britain Elects below shows, turning almost the entire country SNP yellow.
Scottish Labour leadership candidate Jim Murphy would lose his East Renfrewshire seat, the poll claimed. At the 2010 general election Labour won 42% of the Scottish vote, compared with the SNP's share of 19.9%. The party currently has 40 Scottish seats at Westminster compared with the SNP's six.
The poll was carried out amid a turbulent period for Scottish Labour, which culminated in the resignation of leader Johann Lamont on Friday.
She stepped down with an attack on UK Labour colleagues whom she accused of treating Scotland as a "branch office".
A leadership race is now in full swing, with Murphy and Lothian MSPs Neil Findlay and Sarah Boyack vying for the position.
Speaking before details of the poll emerged, Murphy, the latest candidate to declare, pledged to end the streak of "losing Labour" in Scotland.
The shadow international development secretary told BBC News he is confident he can turn around the party's fortunes in Scotland and hold the party's current Westminster seats.
He said: "I'm not interested in left-wing Labour or right-wing Labour, or old Labour or new Labour. I'm interested in losing Labour.
"I want to end that period of losing Labour here in Scotland, starting with the UK general election in 2015, where I'm confident we can hold all the seats we currently have but pick up one or two on top, and also win that election in 2016 for the Scottish Parliament."
Pledging to unite the party, Murphy said: "There is so much that has to change about the Labour Party and so much that has to change about our country.
"I'm determined to bring the Labour Party together, end the period of self-harm that we've had in the Scottish Labour Party and get on and improve our country."
He denied Ms Lamont's claim that the Scottish party has been treated like a branch office. Murphy said: "I don't think the Scottish Labour Party has ever been run in that way.
"The Scottish Labour Party takes so many of its own decisions but I want to do more of that. I want to devolve and have a more autonomous Scottish Labour Party.
"I'm confident that I can appeal not just to Scottish Labour voters, not just to trade unions, but to people who are undecided, people who turned away from us in recent elections in Scotland and build that movement for change here in Scotland."
Former premier Brown ruled himself out of the running in the leadership contest but Murphy plans to meet him to discuss further devolution for the Scottish Parliament.
He said MSPs James Kelly and Jenny Marra will act as joint chairs of his leadership team. He will formally launch his campaign this weekend under the slogan Leading Labour, Changing Scotland.
Findlay, Scottish Labour's health spokesman, announced his intention to stand yesterday. He said he wants to work for progressive change and "create a fairer, more equal and prosperous Scotland".
''I have been overwhelmed by the messages of support from people from within the Labour Party and across the wider Labour movement, all urging me to stand," Findlay said.
''It is no secret that I wanted Gordon Brown to run but, since Gordon has ruled himself out, I now believe we need to have a wide-ranging debate about the way forward for the Labour Party, but more importantly the country.
''If elected Labour leader, I will put the issue of social justice at the heart of everything we do - this is the historic mission of the Scottish Labour Party but it also has to be about what we deliver for the Scottish people in this post-referendum period.''
Boyack co-chaired the review of Scottish Labour with Murphy in 2011, which was designed to make the Scottish leader head of the entire party in Scotland, including MPs, MSPs, MEPs and officials.
She announced her intention to stand on Tuesday. She said: ''Scottish Labour is going to be the key party in the run-up to the UK elections. It's absolutely crucial that we get an Ed Miliband government elected.
''So, that's why I believe in putting my name forward. I can work with colleagues and I can take that debate forward. That is the key thing. I did the review of the Labour Party just a couple of years ago. There's unfinished business there."
Ipsos Mori surveyed 1,029 adults aged 16 and over by phone between October 22 and 29.