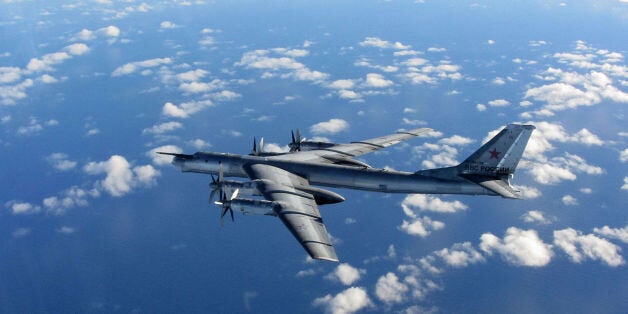 Nato has reported an "unusual" spike in Russian military flights in European airspace after British Royal Air Force (RAF) fighters were scrambled to intercept a pair of Russian long-range bombers over the North Sea.
Typhoon jets from RAF Lossiemouth tracked the two giant Tu-95 Bear H bombers through the UK "flight information region" as Nato radars picked up a series of Russian formations engaged in "significant military manoeuvres" ranging from the Black Sea to the Atlantic Ocean. "These sizeable Russian flights represent an unusual level of air activity over European airspace," a statement on the Nato website said.
The two bombers had originally been part of a larger formation of eight aircraft - including four Il-78 tanker planes - intercepted by Norwegian F-16 fighters in international airspace over the Norwegian Sea yesterday. While six of the planes returned back towards Russia, the two Bears carried on towards the UK where they were picked up by the RAF Control and Reporting Centre at Boulmer in Northumberland, which scrambled the Typhoons.
"The RAF Typhoon pilots visually identified the Russian aircraft and escorted them through the UK flight information region," the Ministry of Defence said. The Bears continued on over the Atlantic to the west of Portugal, where they were intercepted by Portuguese Air Force F-16s before turning back.
"The bomber and tanker aircraft from Russia did not file flight plans or maintain radio contact with civilian air traffic control authorities and they were not using on-board transponders," the Nato statement said. "This poses a potential risk to civil aviation as civilian air traffic control cannot detect these aircraft or ensure there is no interference with civilian air traffic."
The Russian flight coincided with similar incidents over the Black Sea and the Baltic where Russian military formations were intercepted by Turkish fighters and Portuguese jets assigned to the Nato Baltic air policing mission. They come against a background of months of heightened tensions between Moscow and the West following Russia's annexation of Crimea and military incursion into Ukraine.
Nato secretary general Jens Stoltenberg said the alliance remained "vigilant and ready to respond" to any further Russian moves. "We need to keep our forces ready, therefore we are investing in high readiness, new capabilities," he said during a visit to Athens. We are ... increasing air policing as an answer to the increased air activities we are seeing from Russia."