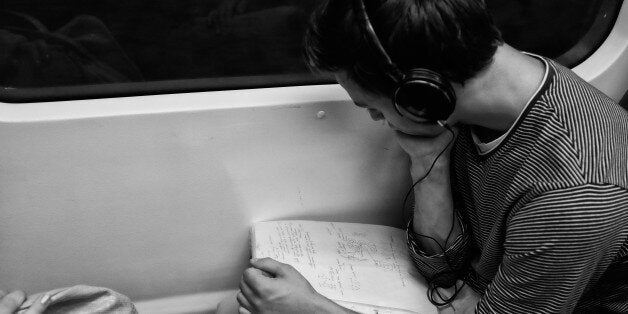 With reading week finally here and essay deadlines looming, we're sure a lot of you are looking for something to listen to while you're studying.
Well, look no further, as we've created the ultimate study playlist.
If you're one of those people who's likely to sing along to their favourite jam in the silent study area of the library, perhaps this playlist of more chilled out tracks is for you.
The tracks should keep you calm, while also giving you something nice to listen to while you type! So let's have a closer look at some of the tracks featured:
Sia - Chandelier (Piano Version)
The album version of this song has already been a massive hit, and we're sure many of you love the song. The piano version offers something new to it, with an almost ethereal sound that'll make your hair stand on end. The playlist also features another Sia track, I'm in Here, which is just as beautiful.
Fleet Foxes - White Winter Hymnal
Released in 2008, this is a great song for those cold winter nights spent snuggled up writing. The drum offers a great beat to type along to, and Fleet Foxes are a great band for studying to generally.
Ray LaMontagne - Let it be Me
There's not much to say about this song other than if LaMontagne's voice doesn't give you shivers, there's something wrong.
Thomas Fersen - Au Cafe de la Paix
If you find yourself getting distracted by singing along to songs, this is perfect, as the lyrics are all in French (perfect that is, unless you're a French student). Other French songs in the playlist include Carla Bruni's Quelqu'un m'a dit and Paris Combo's Fibre de Verre, all easy-listening songs guaranteed to get you powering through that work.
Otis Redding - (Sittin' On) The Dock of the Bay
No chilled out playlist is complete without the addition of some Otis Redding (or some Billie Holiday for that matter), so this playlist has two tracks. (Sittin' On) The Dock of the Bay is one of the best songs if you need to just take a second to calm down. This playlist also features Redding's Try a Little Tenderness, probably best known in recent years from Donkey's rendition in Shrek.
Claude Debussy - Claire de Lune
Yes, it may be Edward Cullen's favourite song, but it's also a pretty sweet song to write along to. Debussy's music has the power to sweep you away to another time, before commercialised and computerised pop music (although, without that, this playlist wouldn't exist)
So there you have it, that's your quick run-through of the playlist, other artists include Arctic Monkeys, The Shins, Lucy Rose, and Radiohead. Listen to the full playlist by clicking below.