A suspected suicide bomb blast has killed over 40 people in Pakistan, near a checkpoint at the country's eastern border with India.
Pakistani police chief Mushtaq Sukhera told reporters in Lahore that the bomb exploded outside a restaurant near a Pakistani paramilitary soldiers' checkpoint at the Wagah border crossing on the city outskirts.
He says the death toll is likely to increase because over 70 people are wounded, with several in critical condition.
The blast tore through crowds of spectators leaving after a colourful daily ceremony.
Pakistan news site Dunya News reports that the rising death toll has reached 48.
[WARNING: GRAPHIC PICTURES]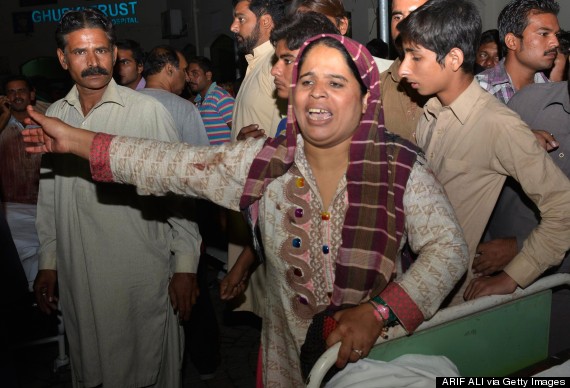 A woman cries after her relative was killed in the blast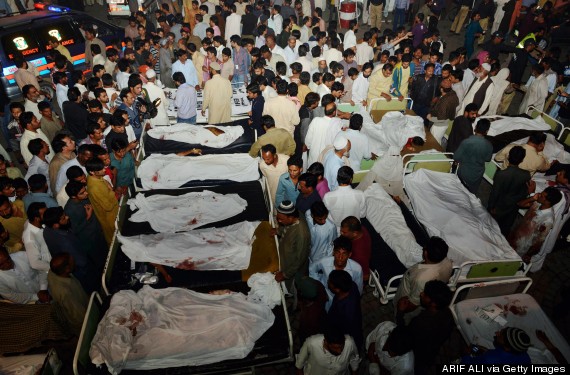 Relatives gather around the bodies of loved ones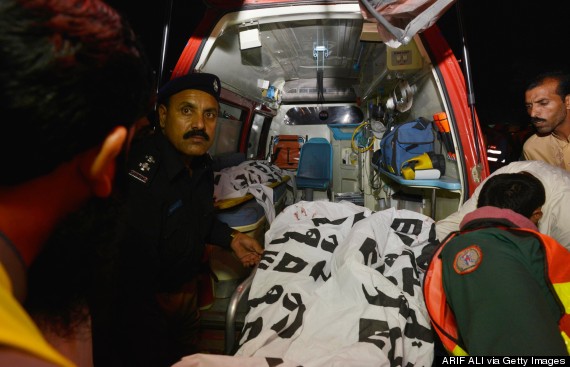 Pakistani volunteers transport the body of a blast victim
48 dead, several injured in explosion near Wagah Border http://t.co/DC0ZvZFc5o pic.twitter.com/clcMrVjHkG

— Dunya TV (@dunyanetwork) November 2, 2014
Pakistan'da intihar saldırısı: 48 ölü haberin detayları için http://t.co/bSRztThEvL

tıklayınız... pic.twitter.com/NvXlSv486f

— Al Haber (@AlHaber1) November 2, 2014
DETAILS: Women and children among the 37 dead in suicide attack on India-Pakistan border http://t.co/PW44i9vqCR pic.twitter.com/GV8sEfSXcX

— RT (@RT_com) November 2, 2014
Police chief Sukhera said the attack looks like the work of a suicide bomber, but police are investigating.
He says the police had intelligence reports in advance that there could be such a blast in the city.
Another Lahore officer, Haider Ashraf, says some paramilitary soldiers are among the wounded.
No one has claimed responsibility for the bombing.