Former footballing star Frank Leboeuf reveals that it can be very hard for sporting superstars to find their way once they've hung up their boots.
"I was in depression for two years," the Frenchman tells HuffPostUK, referring to the period after he retired in 2005, following glittering records with both Chelsea and his national team. "My father died, I was divorced, I went through a personal earthquake. I was very lonely, I had no goals, and it was a hard, hard time.
"There's only so much golf you can play, and the friends you had before, they're working during the day. You just have to push through, keep hoping and fighting the world."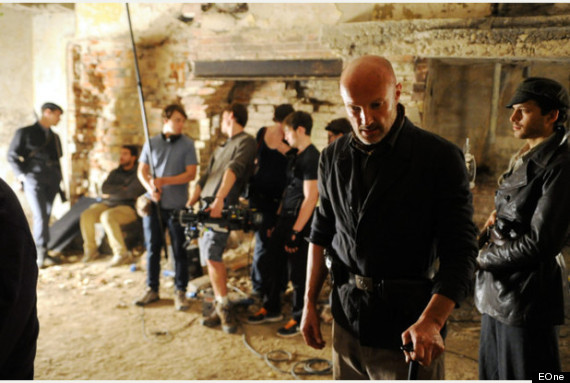 Frank LeBoeuf on the set of wartime drama 'Allies' in which he plays a resistance agent
What kept Frank going were his acting lessons in LA, and his work has paid off, with his appearance on screen this week in a powerful wartime drama, 'Allies', where he plays a French resistance agent.
"It was an opportunity to be a real hero," he tells me. "In my career on the pitch, I was often called a hero, but this is the real thing. It's a tribute from me to them."
Footballers do get called heroes all too often, it seems, something Frank dismisses with a Gallic shrug. "Footballers are entertainers, it doesn't go further than that."
Frank wanted to be an actor long before his father's footballing academy pulled him onto the pitch, but he believes his previous career is standing him in good stead these days.
"I'm very disciplined. When I'm about to shoot a scene, I find it easy to have complete concentration," he explains, "that's something the directors I've worked with have always commented on."
And now he's appearing in a play in Paris, too, alongside his commentary jobs for ESPN and radio.
"I still care a lot," he says of what goes on the pitch. "Each evening, as soon as the curtains close on the play, I check the results."
So I have to ask – are Chelsea going to win the League this year? "They can win the double," he says immediately of his old team. "Maybe the treble."
Sounds like Frank LeBoeuf still has a few sporting heroes after all.
'Allies' is available on DVD and Digital Download from today, courtesy of EOne. Watch the trailer below...
LIKE US ON FACEBOOK | FOLLOW US ON TWITTER