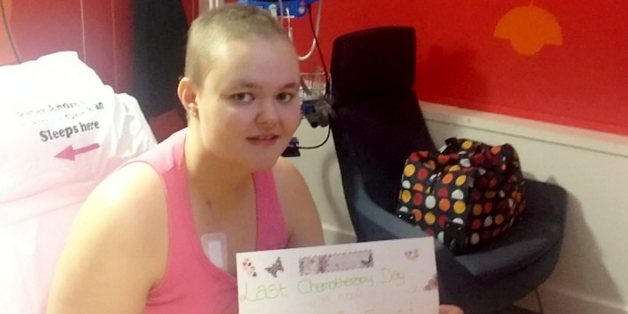 SWNS
A student who visited her GP three times was repeatedly sent away and told she had a heavy cold - when in fact she had leukaemia.
Fiona Codd, 20, was suffering with extreme tiredness, a high temperature and flu-like symptoms when she visited her doctor last November.
She was prescribed antibiotics and told to get rest, but when her condition failed to improve, she went back twice more.
Each time, her GP at The Hawthorns Surgery, Birmingham, failed to recognise the signs and sent her away claiming it was just a virus.
It was not until her parents demanded she have a blood test that Fiona was diagnosed with cancer on December 4, last year.
The family feared Fiona, who is studying a B-Tech in media studies, may have glandular fever but medics finally discovered she had Acute Myeloid Leukaemia (AML).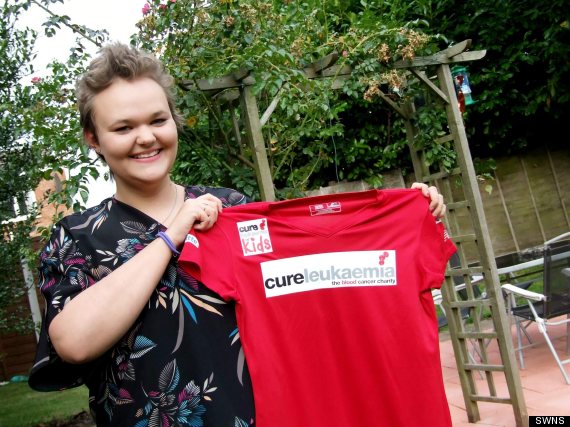 Fiona is now in remission
She went on to spend eight weeks in Birmingham's Queen Elizabeth Hospital and continued having chemotherapy and radiotherapy until April this year.
Fiona, who lives with her parents, James, 54, and Jane, 50, in Sutton Coldfield, is now in remission but will have regular
check-ups to ensure the cancer does not return.
She said: "I had these flu-like symptoms over a two-week period and kept on going back and forth to the doctors.
"I was given antibiotics but nothing was really working. The doctor couldn't put his finger on what was actually wrong.
"He said I probably just had a heavy cold and not to worry about it.
"In the end, on the fourth visit my mum came with me and asked them to carry out a blood test – she was sure something was wrong and initially thought it was glandular fever.
"The next day I received a call to go to hospital and was given the bad news.
"When I was told I had cancer I burst into tears and kept thinking 'Why me?'
"My first thought was also about my hair and whether I would lose it. I always loved doing different things to my hair and knew I wouldn't be able to after that.
"If it hadn't been for my mum pressing the doctor to give me a blood test I might not have been diagnosed with cancer so early. It's shocking that it was missed so many times."
Fiona started chemotherapy immediately and by April this year she was told she was in remission.
In AML, the process for making new white blood cells gets out of control and immature white blood cells, known as blasts, keep being made.
They build up in the bone marrow until there isn't enough room for the bone marrow to make healthy white blood cells, red blood cells and platelets any more.
Fiona has now finished treatment and is back at college but having blood check-ups every month and bone marrow tests every three months.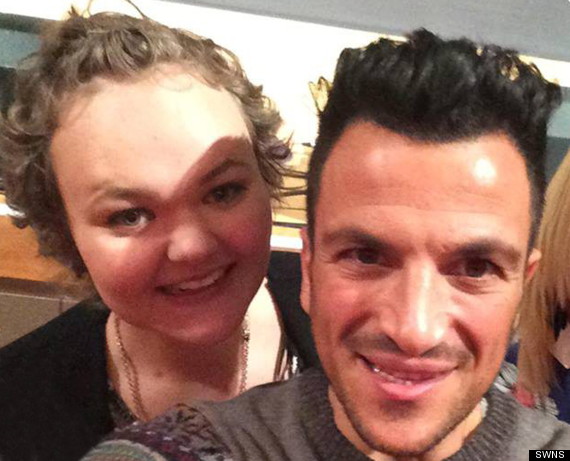 Fiona meeting her idol, Peter Andre
Fiona's dad James, who gave up work at Jaguar Land Rover to care for his daughter, said: "When we found out about the diagnosis it was horrendous. It is the worst news you can hear as a parent.
"Our world just collapsed. Now she is in remission I can't even describe the relief we are feeling.
"We want to campaign for young people to be checked more quickly when they have a high temperature.
"We have spoken to other families and sometimes it has taken months to diagnose this sort of thing.
"After we had been once and the antibiotics hadn't worked, the doctor should have then done a blood test to see what else it could have been.
"But we went three times, and we just kept being told it was a virus. Fiona is very strong and is back at college now. She wants to go into the media, probably something to do with radio.
"And last week she got to meet her idol, Peter Andre, through the 'Dreams Come True' charity."
Fiona is now encouraging other youngsters to look out for the five common signs of the disease as part of a Teenage Cancer Trust campaign.
The family has raised more than £5,000 so far for charity Cure Leukaemia.
The NHS and GP surgery have been contacted for comment.