David Hasselhoff's career can be split, broadly speaking, into three big chapters.
And, more recently, the one where he took what we can call 'the Shatner route' of shameless, cheerful, self-parody, touting himself out for endorsements, random appearances in far-off settings, and mastering his greatest, most lucrative role of all - simply being... The Hoff.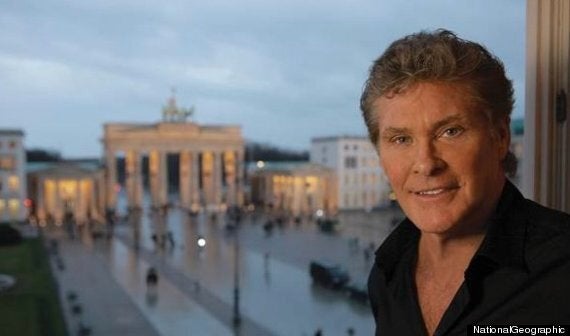 David Hasselhoff has returned to the Berlin Wall for this one-off documentary
So far, so Hollywood. But one unique, unlikely chapter sets this once ordinary TV actor apart, giving him a category all to himself, and providing a mind-boggling example of what happens when you're in the right place at the right time, that being one of revolution.
As part of relatively limited chart success, the Hoff happened to be peddling 'Looking for Freedom', a song which never troubled the Ivor Novello Awards judges, but somehow caught the zeitgeist, going to number one (for EIGHT ear-burning weeks) in Germany in 1989, the very same year the Berlin Wall came down. Which is how a man formerly famed for his red trunks found himself sitting atop this Cold War edifice, this symbol of isolation, even as it was being dissembled, and how his prancing along it, belting out his ditty, became the soundtrack to a new European age. Strange but true.
For the 25th anniversary of the Wall coming down, Hasselhoff has travelled back to the German capital. Tonight's documentary sees him revisiting what remains of the Wall, and meeting some of the brave people who ran, swam and tunnelled their way from one side to the other. And, along the way, he reflects on his own strange role in this movement from Communism to democracy…
It's all in a day's work for the Hoff, who told HuffPostUK a while ago of his enduring philosophy….
"The Hoff has become larger than life, so I can't do anything small any more," he said. "If I mess up, it becomes big no matter what it is, so if I do something positive, it has to be equally big.
"Failure usually works for me in the end," he explained. "I look at failure, think 'oh my god'. Then, two days later, I find some way of turning it into a joke, doing a TV show about it, doing a commercial or something. So the only things I worry about are, Can I make it to the gym on time, can I work out?"
This strategy has seen him through countless work projects in the year's since 'Baywatch' finally packed up the boards. Only recently, he's participated in 'Ted 2', put together his best moves for 'Dance Hoff' computer game, a 'Hoff Around the World' game involving zombies invading his beloved Venice Beach, two more films on the slate, oh, and a 3-D celebrity-selfie generator. "You go into a booth, it scans you and you can walk out with a Hoff figure or Pamela Anderson or any celebrity you want," he told the Guardian.
And it seems to work for him. Fans' mentions of him on social media – either catching him on 'Baywatch' re-runs or grabbing him for selfies in his many, random spottings – are full of praise for his refusal to take himself seriously, and to always join in the joke.
A recent fan-sighting of him in Nando's in Kilburn – who needs Nobu? – saw a 750% increase in mentions of him, with an impressive 81% of these positive in sentiment, mostly by fans coming away with a big-grin of a selfie. And the same thing happened when he was spotted filming in a kebab shop in New Malden. Yes, really.
Here he is, with some new friends in Mill Hill...
Meanwhile, this week's documentary finds him meeting one group of Berliners who tell him where his song fits into their rollercoaster history. "In East Germany this was our hymn," says one man.
Like I said, unique, unlikely but true.
'Hasselhoff Vs The Berlin Wall' is on tonight (Tuesday) at 9pm on National Geographic. Watch clips above and below...
All TV trends data referred to in this article has been supplied by Virgin Media, which provides access to up to 260+ channels including Freeview Channels, Virgin Movies, Sky Movies and Netflix.