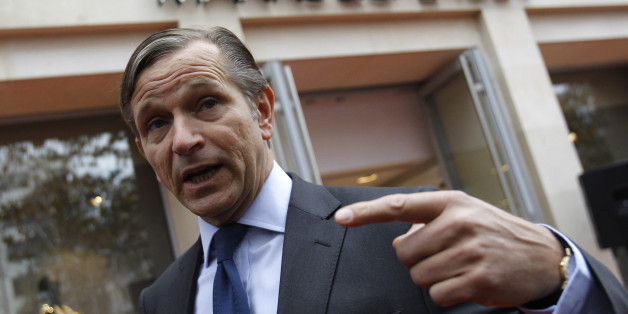 ASSOCIATED PRESS
Marks & Spencer's embattled boss highlighted signs of progress today after the high street chain posted a surprise rise in half-year profits.
Marc Bolland pointed to an improving trend in womenswear following "increasingly positive feedback" from customers, although like-for-like clothing sales were still down 2.2% in the six months to September 27.
M&S said its food business continued to outperform the market with a 1% rise in sales, despite the competition impacting on supermarket rivals.
Across the group, sales rose 1% to £4.9 billion and underlying profits lifted 2.3% to £268 million, compared with City expectations for a decline.
Bolland said: "M&S delivered sales growth and increased profit in the first half despite a tough market, particularly in September. We are pleased with the progress we have made against our key priorities for the year."
Marks' shares jumped 8% after the results, which included a surprise increase in the company's half-year dividend of 0.2p to 6.4p.
The company registered a 13th consecutive quarter of falling general merchandise trading with second quarter like-for-like sales down 4%.
However, Marks pointed out that about 2.5% of the decline was due to the impact of unseasonably warm weather conditions in September.
It said: "Womenswear performance continues to improve with growth in full price sales and increasingly positive feedback from our customers.
"However, the recent market conditions remain challenging, with unseasonal weather resulting in high levels of promotional activity across the market."
In food, the company's high-end positioning has allowed the retailer to avoid being dragged into the ongoing supermarket price war.
Like-for-like sales were 0.2% higher in the second quarter, which was in line with City expectations. Marks said up to 200 Simply Food stores are now planned over the next three years, compared with 150 previously guided.
It added: "Despite some improvement in consumer confidence, market conditions continue to be challenging. As a result, we remain cautious about the outlook for the remainder of the year. However, we are confident that we are well set up for the key Christmas trading period."
Neil Saunders, managing director of retail consultancy Conlumino, said there were some glimmers of hope from the retailer, particularly on signs that its strategy of becoming more fashion-focused is starting to pay off.
He added: "Overall, M&S's school report for this term reads 'showing signs of improvement', but there is quite some way to go before it is back at the top of the class."