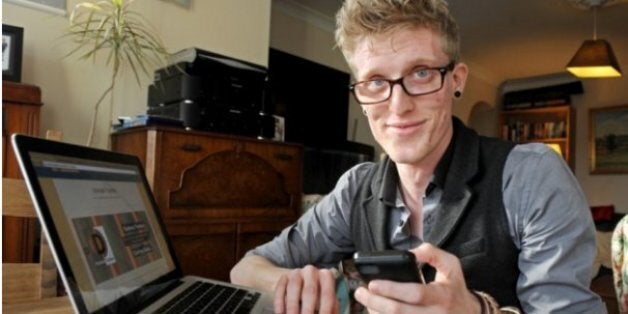 Starting up your own business can be challenging enough; reams of paperwork, document preparation and using the right lingo are just some of the obstacles standing in the way of entrepreneurs.
So what happens if you're dyslexic? Suddenly these obstacles turn into mountains, and many don't have the support network they need.
But Gary Smith turned his dyslexia into an asset. With the help of his mentor, he founded Brainbook, a company specialising in health and educational software.
Through Brainbook, 24-year-old Gary released the Dyslexia Toolbox app, designed to aid the day-to-day struggles of being dyslexic - such as the order of letters in a word or months in the year, date formats as well as differentiating between left and right.
As the type of dyslexia varies from one person to another, the Dyslexia Toolbox app can be modelled to each user's individual needs rather than taking a one size fits all approach.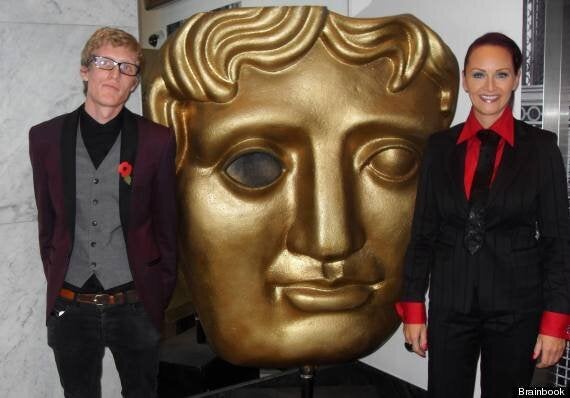 Gary and his mentor Chelsey Baker
Gary set up his business after being assigned a mentor and granted a £9,500 start-up loan.
His app already has 10,000 users following its release in September, and Gary is gearing up to pitch for an EU grant of £1.5m. Although Gary is well on his way to success, his path hasn't always been easy.
"From starting to where I am now involves a lot of paperwork and a lot of document preparation," he explains. "It is a very common difficulty within dyslexia that we would find it really difficult to start a document and write it but spoken word will be extremely articulated.
"The problem is business requires a certain level of 'professionalism' and certain lingo. So it has been a big challenge to learn all this from the start, of course I'm still learning and the solution is simple: contact people who have been there and done it and ask them to teach you and nine times out of 10 they will.
Gary says having dyslexia has "absolutely" held him back in terms of understanding and writing business plans, but "in terms of ideology, idea creation and implementation, no".
"The greatest thing about having dyslexia is our impeccable problem solving skills which can be uncanny to some people. In my mind I know exactly how to go forward and how other industries need to move and this is proven as I have been 'project managing' for a failing business recently to simply problem solve and get it running."
Not only has Gary turned his dyslexia into a positive, he has been inspired to help others in the same boat.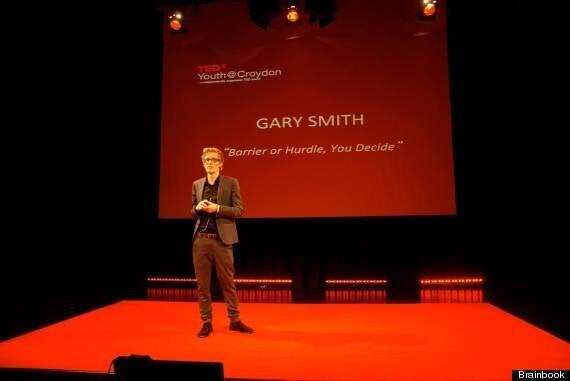 Gary speaking at a TedxYouth event
"I am not one to hesitate or be scared to do what I want to do, probably because I've worked hard all my life and overcome health conditions, but I can see where someone with dyslexia would avoid starting a business at all costs.
"It is natural for any human being to avoid something that can give you great stress or difficulty and dyslexic people work harder because they are forced to.
"There is definitely a shortage of mentors for dyslexics, as a little help and understand goes a long way."
Half of dyslexics experience Irlen Syndrome, which prevents many people from reading effectively and efficiently. Yet, Gary says, nobody makes changes to their systems to accommodate.
"This is why I'm building the technology to cater and provide to them so they don't have to make the changes, we do. The reason we are building a social network for dyslexia is to provide the right support quicker and from the right sources."
"My best advice I can give is this: Everybody who walks this planet has difficulties, never be afraid to ask someone for help so you can understand and get better.
"Eradicate the stigma of 'stupidity' in dyslexia by not dwelling on your difficulties and find a way around them."
Dyslexia Awareness Week runs from November 3 to November 9 2014 and is an annual event that aims at not just raising awareness, but also showcasing the amazing achievements that people with dyslexia have made. Find out more here.
Related