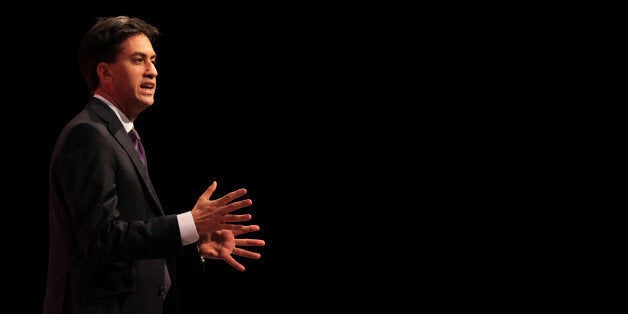 Ed Miliband has dismissed talk that there is a plot to oust him as Labour leader as "nonsense", amid deepening criticism of his leadership of the party.
"This is nonsense, my focus, the Labour Party's focus is on the country and the things that matter to the country," he told the BBC on Thursday afternoon. "I don't accept that this matter arises. What I believe the party wants to focus on is the country and we owe that responsibility to the country."
With less than seven months to go until the election it is highly unlikely that Miliband will be forced out, not least because there is no obvious candidate to replace him. However Labour has seen its poll lead over the Tories evaporate and the mood in the party has been described as "pretty black".
In an attempt to shake-up his election campaign, Miliband appointed Lucy Powell to the post of vice-chairman of the general election campaign. Powell, who who ran Miliband's campaign for the Labour leadership and was elected to parliament just two years ago, acknowledged that "new energy" was needed.
However her appointment has not gone down well with some backbenchers. One normally loyal Labour MP told The Huffington Post the move looked like "more Westminster bubble stuff".
"That's the problem with it," the MP said. "It looks like we are getting people into posts because of who they know. Lucy Powell has been close to Ed for a long time. Putting her in the shadow cabinet after just two years is stretching things a bit."
According to the BBC several Labour MPs have told the chairman of the Parliamentary Labour Party that Miliband should stand down. One MP told the broadcaster: "What really pi**es me off is he said he would be about content not style, but it's all style and spin, and it's sh*t."
And The Times reported this morning that some MPs were circulating a letter that demanded Miliband stand aside. A veteran Labour MP told the paper said: "I don't know a single shadow cabinet member who thinks we can win. Labour MPs have approached me over a plot but I've said no. I'll watch it on the telly."
But Miliband was backed by Balls, who also said talk of a leadership change was "nonsense" and that the party was focused on winning the election with strong policies. "It's the Conservative Party which are riven and divided and defecting left, right and centre. We will focus on Tory division, Labour will stay united," he said.
Another senior shadow cabinet member told Sky News of the notion there was a plot: "It's Westminster nonsense. Bar room bollocks."
The latest round of criticism was in-part sparked by the latest issue of the New Statesman. The magazine, which backed Ed for the leadership in 2010, appears to have turned against him. Editor Jason Cowley wrote: "Miliband is very much an old-style Hampstead socialist. He doesn't really understand the lower middle class or material aspiration. He doesn't understand Essex Man or Woman."
The magazine also quoted one shadow cabinet minister as admitting "morale has never been lower" while a shadow minister said MPs were "all very, very concerned".
Popular in the Community