A specially liveried train carrying stories of the fallen from WWI pulled into King's Cross station this morning as 100 members of the armed forces past and present lined the platform.
The East Coast main line locomotive carries images, stories and tributes to regiments and people who served as part of commemorations marking the 100th anniversary of WWI.
TV presenter and former Cabinet minister Michael Portillo was on hand to pay tribute to rail workers who fell in the Great War at a ceremony at the station.
No fewer than 700,000 people worked on Britain's railways 100 years ago and 20,000 of them died after volunteering to serve in the First World War.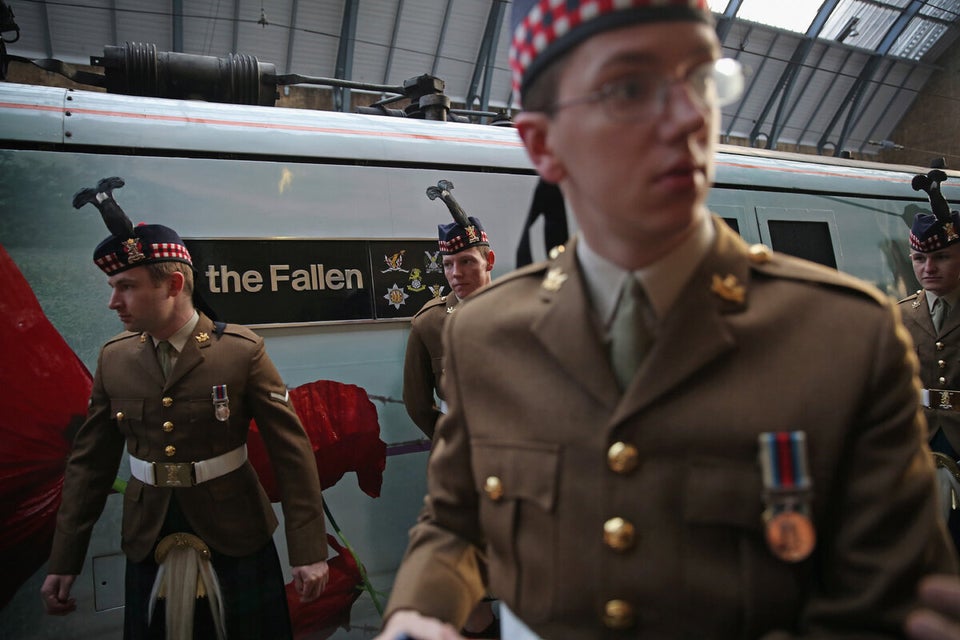 WW1 commemorative train arrives at King's Cross
Mr Portillo, who presents the BBC series Great British Railway Journeys, said: "Railway workers volunteered with enthusiasm to serve their country and many died in the cause.
"The railways played a vital role in the war. So I am pleased that at the centenary, the contribution of men and machines is being recognised and remembered."
Transport Secretary Patrick McLoughlin added: "World War One is also known as the Railway War because of the significant role trains played in the conflict.
"Trains transported supplies and soldiers to and from the frontline and kept the country going.
"The railways are just as important to the nation now as they were 100 years ago."
He went on: "Today's ceremony and the For the Fallen locomotive are a moving reminder of the sacrifices made by our forefathers in the Great War and in wars since.
"It is important that we remember their sacrifice, and that we never forget the lessons of the past. I am honoured to have been able to commemorate their work today."