The Foreign Office is looking into reports of the death of a Briton in a suicide bombing in northern Iraq.
The man, named in reports as Kabir Ahmed, from Derby, is believed to have been involved in an attack in the town of Beiji, north of the capital Baghdad.
An FCO spokesman said: "We are aware of reports of the death of a British national in Iraq and are looking into them."
The Beiji attack happened late on Friday when a truck laden with explosives was driven by a bomber into the convoy of a top Iraqi police officer, killing eight people including the ranking official, authorities said.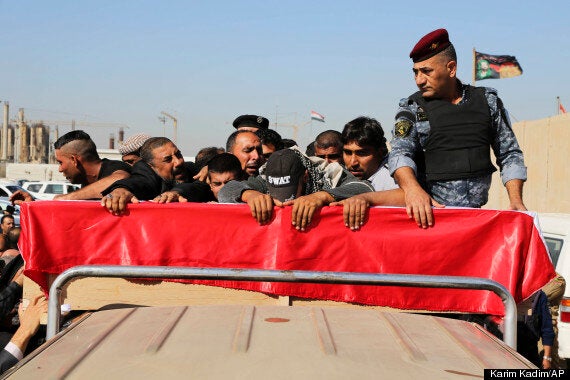 The blast killed Lt Gen Faisal Malik Zamel, whose funeral took place on Saturday
The blast killed Lt Gen Faisal Malik Zamel, who was inspecting forces in the town, and seven other police officers, while wounding 15 people, hospital staff and police officers.
It comes as the US confirmed it conducted a series of air strikes targeting Islamic State (IS) leaders in the north of the country, although it was not known whether IS leader Abu Bakr al-Baghdadi was among those targeted.
Meanwhile, Four men arrested in connection with an alleged Islamist terror plot just two days before Remembrance Sunday will be held for a further seven days.
Counter-terror police detained the men, aged 19 to 27, on Thursday night at locations across west London and High Wycombe in the Thames Valley area, Scotland Yard said.
Police vehicles and tape could be seen outside two addresses in High Wycombe - in Desborough Avenue and West Wycombe Road - as officers carried out searches of the properties.
It is understood the men were plotting an attack on British soil. The timing of the arrests raised fears that Remembrance Sunday events in London were alleged targets.
A 19-year-old, understood to be called Yousaf Syed, was arrested at an address in High Wycombe at the same time as a 22 year old was arrested in Hounslow at 8.45pm on Thursday. Firearms officers assisted with both arrests.
A 25-year-old was arrested in Uxbridge at 2.55am Friday while a 27 year old was arrested in a car in the street in Southall at 8.30pm on Thursday.
A Metropolitan Police spokesman said: "Warrants for further detention have been granted for all four men for a further seven days."