Pudsey makes his DVD debut today.
The former winner of 'Britan's Got Talent' and star of his own self-titled movie joins fellow canine listers in bringing his charms to the screen, together with the help of his tireless owner Ashleigh, oh, and one of the champions of his success, 'BGT' judge David Walliams.
Is Pudsey one of the growling greats? Not yet, but possibly in time... here we take a look at ten of the all-time screen doggy stars, and see how they wagged their way to the big time! Who's your favourite?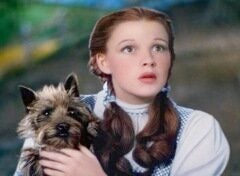 10 Biggest Doggy Film Stars
'Pudsey: The Movie' is available on DVD from today, from Entertainment One. Watch the trailer below...