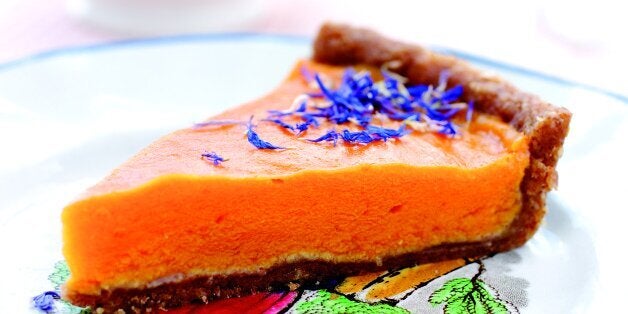 If you've got a sweet tooth but need a health kick, listen up.
Dessert doesn't have to be an unhealthy affair, just check out these no-fuss recipes from Caroline Fibaek's book 'Raw Cakes'.
Full of lovely jubbly goodness and easy to make - what more could you want?
Makes approximately 20 cookies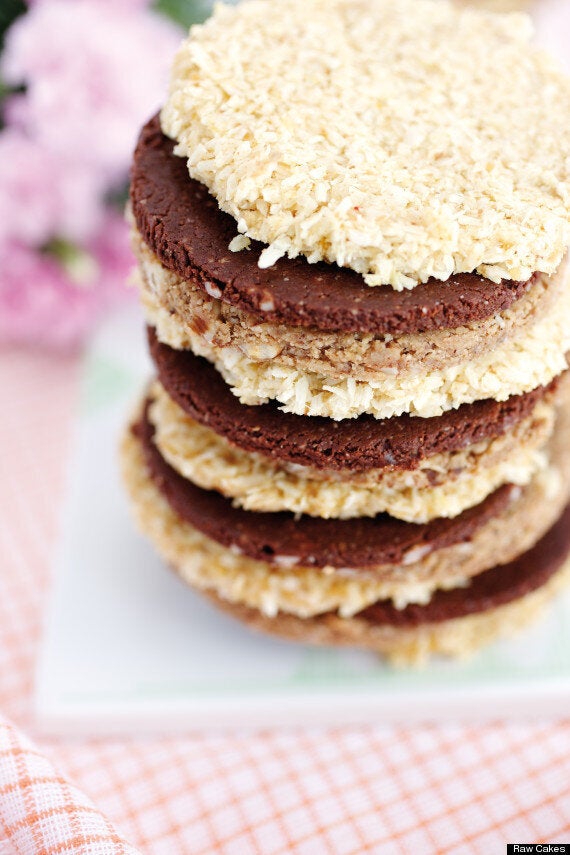 Ginger is used both to treat colds and influenza, digestive problems and to relieve nausea in motion sickness or pregnancy. Ginger strengthens circulation and relieves pain and inflammation.
To make completely crisp cookies you must have a dehydrator which dries the cookies. If you are not the lucky owner of such a dehydrator you can roll the cookies to juicy balls instead – they are not crisp, but definitely just as delicious in this way.
400g dates, stones removed
3 cm piece ginger, finely grated
1) Blend dates, ginger, salt and agave syrup to a smooth paste. Add a little water to make it easier to mix
2)Thoroughly mix the date paste with shredded coconut and roll out the pastry to approx. ½ cm thick.
3) Cut out the cookies with a biscuit cutter or use a glass with a very thin rim, e.g. a champagne glass.
4) Place the cookies on the dehydrator trays and dry for approx. 8-10 hours.
5) The cakes will keep in an airtight container for up to 4-6 weeks (if you can keep your fingers away from them for that long!)
Tip: Before you roll out the sticky pastry it is a good idea to place a piece of baking paper underneath and on top of the pastry. This way it will not stick to the table top or the rolling pin.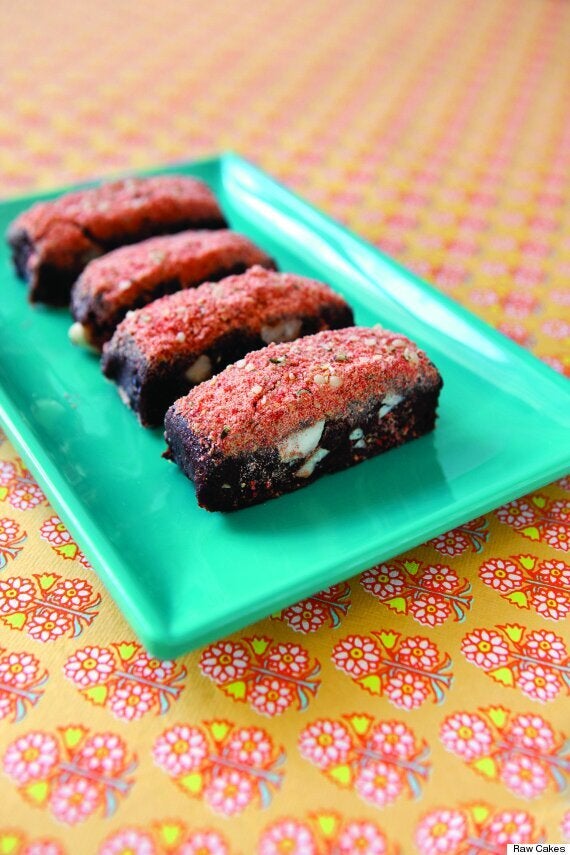 A veritable protein bomb which in total contains 66.1 g of protein from among others the hemp seeds, Brazil nuts, raw cocoa powder, bee pollen and goji berries. In comparison 100 g beef contains approx. 21 g protein.
Bee pollen contains 25% protein and all 22 amino acids which makes bee pollen a complete protein. At the same time it contains 18 different vitamins and more than 30 minerals, in particular manganese, lots of enzymes and essential fatty acids.
2 tablespoons coconut oil
2 tablespoons goji berries
1) Remove the stones from the dates and knead them to a soft, uniform paste.
2) Add coconut oil, raw cocoa powder and salt, and knead thoroughly.
3) Chop the Brazil nuts coarsely and mix with the paste together with the hemp seeds, bee pollen and goji berries.
5) Place the mixture in a brownie tin (or other square dish) in a layer, approx. 3 cm thick and leave to cool in the fridge, while you prepare the sprinkles.
1) Blend goji berries and coconut flour in a blender or coffee grinder and sprinkle over the cake.
2) Cut the cake into squares and serve.
Serves approximately 16 people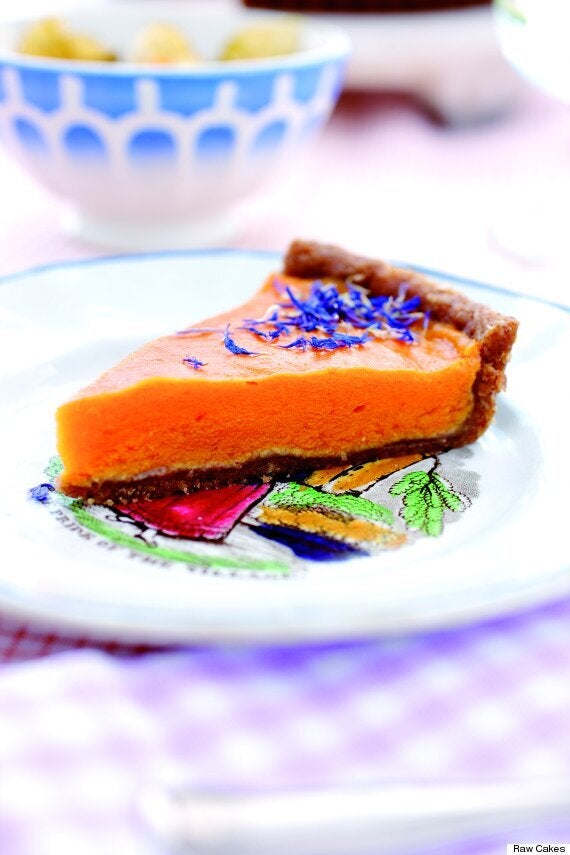 Papaya is super healthy and the tart is so delicious that it will be suitable both for dessert and for breakfast. It's a good source of vitamin C and beta-carotene. These antioxidants help our immune system and protect against cardiovascular diseases. Papaya contains the enzyme papain which helps digestion of protein and prevents inflammation.
100g almonds, soaked in water for approx. 3 hours
90g walnuts, soaked in water for approx. 3 hours
85g dates, stones removed
A little shredded coconut, if necessary
1 ½ tsp lime or lemon juice
Decoration: edible flowers – e.g. cornflower
1) Blend the almonds and walnuts in a blender or food processor with the dates until they form a firm paste.
2) Spread the paste in a tart dish and leave to chill while you prepare the filling.
3) Sprinkle a little shredded coconut over the base of the tart dish to prevent the tart paste sticking.
To make the papaya filling:
1) Blend papaya, bananas, ground chia seeds, lemon juice and turmeric.
2) Pour the filling over the tart base. Freeze the tart for 1½ - 2 hours.
3) Cut and serve – as dessert or breakfast.