In the nearly 16-minute video uploaded to social networks on Sunday, a black-clad militant - who could be Jihadi John - stands before a severed head that he claims is that of the US aid worker Peter Kassig.
But, unlike in the beheading of other hostages James Foley, David Haines, Alan Henning and Steven Sotloff, Kassig was never seen alive and did not make a statement to the camera.
Indeed, the militant makes a point of saying that Kassig can no longer talk because he is dead. In the segment with Kassig after his execution, the British jihadist declares: "This is Peter Edward Kassig, a US citizen of your country. Peter who fought against the Muslims in Iraq while serving as a soldier under the American army, doesn't have much to say."
He then says that his "previous cellmates have already spoken on his behalf" and goes on to berate President Barack Obama for air strikes over Iraq.
"It's possible, of course, that he wouldn't cooperate and speak on the video," Olsen said.
Kassig, 26, was captured last year while helping provide medical aid to Syrians. His friends say he converted to Islam in captivity and changed his name to Abdul-Rahman.
The family of the aid worker Islamic State (IS) have appealed for people not to "play into their hands" by sharing it.
The video was released hours after it was reported Jihadi John, the British terrorist who sent chills and fear throughout the world when he beheaded four IS hostages in earlier videos, has been injured in an air strike.
The video also showed what appeared to be the mass beheading of around 10 captured Syrian soldiers.
It was not immediately possible to confirm whether the video was genuine. The Foreign Office said it was analysing the footage.
In response to the video being released, Mr Kassig's parents released a statement saying: "We are aware of the news reports being circulated about our treasured son and are waiting for confirmation from the government as to the authenticity of these reports.
"We will have no other statement at this time and ask that you please respect our privacy.
"The family respectfully asks that the news media avoid playing into the hostage takers' hands and refrain from publishing or broadcasting photographs or video distributed by the hostage takers.
"We prefer our son is written about and remembered for his important work and the love he shared with friends and family, not in the manner the hostage takers would use to manipulate Americans and further their cause."
The video shows the militant - who is believed to be the London-accented Jihadi John - directly warning Barack Obama that Americans will be next.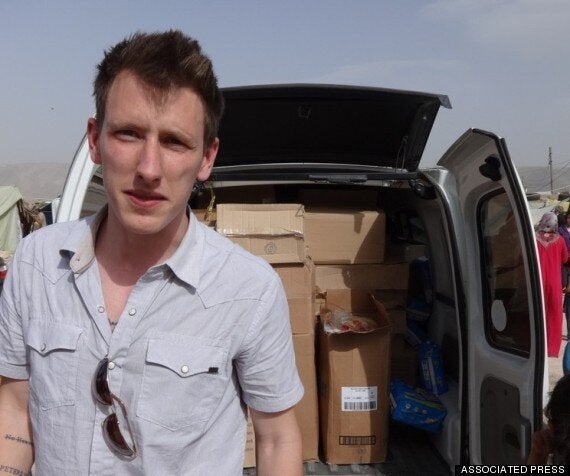 Peter Kassig, pictured before his capture
Last month, Kassig's parents released extracts of a letter he wrote to them while he was in captivity.
"This is the hardest thing a man can go through, the stress and fear are incredible," the aid worker wrote.
"They tell us you have abandoned us and/or don't care but of course we know you are doing everything you can and more.
"Don't worry Dad, if I do go down, I won't go thinking anything but what I know to be true. That you and mom love me more than the moon and the stars."
Kassig was captured by IS fighters in Syria in October last year while providing medical training and humanitarian aid to victims of the country's civil war.
Prime Minister David Cameron said he was "horrified by the cold blooded murder" of US hostage Peter Kassig, and claimed that Islamic State militants "have again shown their depravity".
He said: "These beheadings show once again what a depraved organisation this is.
"Like others who have been murdered in cold blood by ISIL, Abdul-Rahman Kassig was a selfless humanitarian worker who had gone to the region to help care for those fleeing the Syrian conflict.
"This underlines the deplorable depths to which these terrorists are prepared to go - savagely murdering a compassionate man."
Jihadi John was injured last weekend in an air strike which killed 10 of the most senior members of IS, also known as ISIS or ISIL, and injured its leader Abu Bakr al-Baghdadi, The Mail On Sunday reported.
He was taken to hospital in Al Qaim, an Iraqi town near the Syrian border, and then the IS stronghold in Raqqa, Syria, according to "reports received by the Foreign Office", the paper said.
A Foreign Office spokesperson said: "We have a number of sources of information coming in.
"The incident occurred last weekend, and so we have received the reports in the last few days. We don't have any representation inside Syria, and so it is difficult to confirm these reports."