With Far Cry 4's release date set for the 18 November on Xbox One and PS4, the reviews have started to creep in -- and already it's becoming clear: this is a great game.
While many agree that it doesn't deviate too much from the formula of Far Cry 3, the general consensus seems to be: 'if It ain't broke, don't fix it'.
Moving from the sun-kissed tropical islands that became your own personal hell in the last game, Far Cry 4 drops you deep into the harshly beautiful wilderness of the Himalayas pitting you against not only a bloodthirsty horde of mercenaries but also the world's wildlife as well.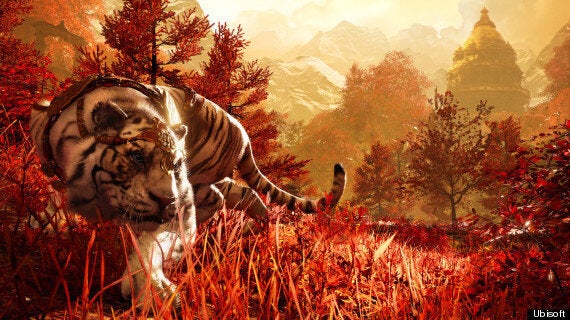 With the same winning combination of free-roaming and linear plot-telling, Far Cry 4 is doing much to held Ubisoft drown out the myriad of problems that its other blockbuster -- Assassin's Creed: Unity -- is currently suffering from.
"The strength of the world and its systems alone makes this one of the year's best games and one whose enormous potential for experimentation means you'll playing it well into 2015. By taking things to the Himalayas, Ubisoft Montreal has managed to skilfully weave an attractive partnership of awe-inspiring landscape and exhilarating, surprising action."
"There's a staggering number of adventures to extract from Far Cry 4, whether you chase the ones laid out by the game explicitly, or the ones that develop naturally as you take in the sights. It's another interesting and absorbing world to fall into, shoot through, burn and then guide to new beginnings. Far Cry 4 may have installed a despot, but it's still the undisputed king of the open-world shooter."
"A hallmark of excellence...Far Cry 4 could have all of the multiplayer elements stripped away and it would still be a very strong game. If you enjoyed its predecessor and didn't grow tired of Ubisoft Montreal's open world formula, you'll have a blast living the experience again."
"Far Cry 4 truly shines in the almost bacchanalian sense of freedom it bestows on the player as they traverse through its environment. In Kyrat you have the ability to go anywhere and do pretty much anything – much as Pagan Min would advocate. Here, the only pact you need keep is that with your conscience. God help you."