Long before Liam Neeson became Hollywood's go-to star for an action man of a certain age, he was an aspiring Irish actor, who also happened to have a swift left jab in him.
Now, as he narrates the documentary 'Manny' (available on DVD today), telling the intriguing story of one of boxing's all-time greats, Liam delves back into his youth as a keen boxer himself, and tells HuffPostUK about the lasting influence of the sport on his career, and why he still tries to watch a match whenever he can...
As a boxing fan you must have been thrilled when you were asked to narrate the Manny documentary…
Oh yes. I am a big boxing fan and certainly I am a Manny Pacquiao fan. I was delighted to do it. I watched it the other night and I thought it was lovely. It was almost like a Shakespearian story. There were so many things that I never knew, like when he takes the team to where his home was and where the rebels were firing guns and all the rest of it. I was, 'My God, that's tough.'
What sparked your own interest in boxing?
I was nine and was at mass one Sunday morning and our parish priest Father Darragh announced from the pulpit, 'Listen, I am starting a boxing club on Mondays, Wednesdays and Fridays at 7.30pm,' or something like that. 'Send your boys up!' And I was sent. There were about 10 or 12 of us. Father Darragh was there. He had two ropy pairs of ratty, old, ancient boxing gloves and a book on how to box. He started at page one and we learnt how to throw a left jab and did all that and then six years later — I say this very, very proudly — he guided our club to become one of the best clubs in Ireland. I made some very dear friends, and still have some very dear friends from the boxing years.
For how long did you do the sport?
I started when I was nine. I entered competition at the age of 11. I think I had my last fight when I was about 17, I guess.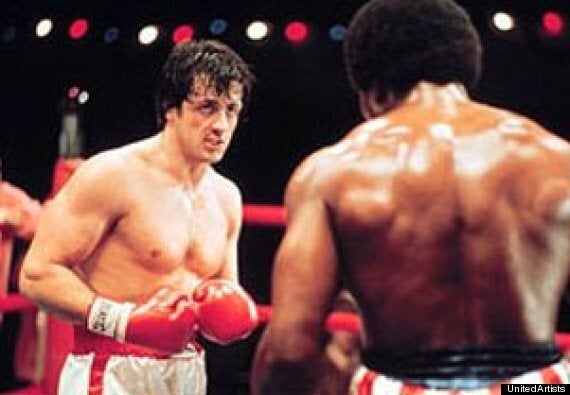 Sylvester Stallone broke into the big time as Rocky Balboa, but Liam Neeson is convinced it's impossible to play a boxer in film
Did you ever think it might be your career?
Oh, yes, of course. You think, 'Wouldn't it be great to be picked for the Mexico Olympics?' I think it was then. Of course, at that age you are thinking that. Muhammad Ali had won the world title and he was like a god, certainly to me. Your imagination is fired at that age. I have a photograph of Ali that I remember cutting out as a 12-year-old and he was an amateur boxer and I remember thinking, 'My God, Ali's 12 and I am 12. I could be the same.' You think all that stuff.
I was at school, I was doing my O-levels, I was getting more heavily involved in amateur drama and there just wasn't the time. By that stage, 16 or 17 years of age, I was a big, tall guy; I was always a hard trainer but at that age and at that weight — I was, I guess, a middle weight, 11 stone or something — I certainly felt that I needed to be training five or six nights a week and I just couldn't put that time in. And I thought, 'If I can't put the time in, that's when you get hurt.' So I bowed out gracefully. By that stage I knew I was a competent boxer. I wasn't great. I was competent. I won a few titles. I had a good left jab.
Are you just being modest?
No. I was okay but looking back on it and remembering kids I did box with who went on to great amateur glory, I was competent. Seriously, compared to them I was just okay.
But you maintained an interest in the sport and you followed Barry McGuigan's [retired professional Irish boxer] career closely….
I did. Barry and I used to hang out. I see him every now and again. There are a few of them. Jim McCourt was one of the world's great lightweight amateur champions from Belfast and there was Mickey Tohill as well. I just saw him the other night. Oh God, they were great amateurs and they were fantastic. I am not comparing myself to Manny Pacquiao, by any means, but those years of boxing and training, sometimes three or four times a week, gave me a work ethic. If you want something you have to fight for it and work towards it. There is no discipline greater [than boxing] and when you are in the ring you are in there with all your strengths and all your weaknesses. You can't act being a boxer in the ring, you really can't.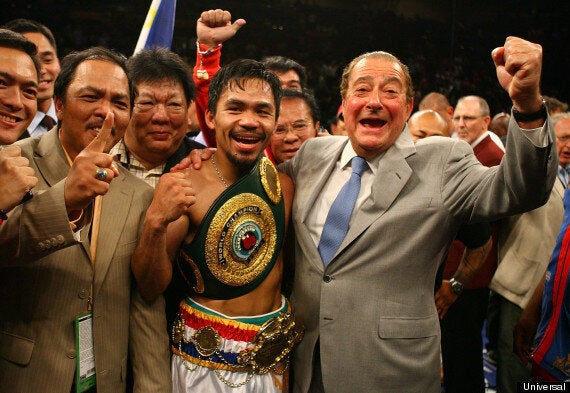 Manny - has two or three fights left in him, according to the film's narrator and keen fan Liam Neeson
Has the boxing helped with the action films you've done? Movie fighting is very different…
I love doing those movie fights and I do all those myself, so I know what goes into them, but it is totally different. Other than, of course, keeping fit, which is what you have to do, it is a different discipline. In movies you are learning how to fake punches and make them still look real.
You said you were a Manny Pacquiao fan. Do you recall when you first came across him?
Certainly it was when he came to America. The great Freddie Roach was his trainer. Over here in the States, Jim Lampley is one of the great boxing commentators and he really knows his history of boxing. I remember him saying, 'And here he is, Manny Pacquiao. This guy is destined to be one of the greats,' and for him to say that, I remember thinking, 'Okay, everybody be quiet. I want to see this kid box.' And right enough, he was just like a human dynamo. He never stopped.
That's the thing about Pacquiao. I think he may have two or three fights left in him but you talk about the championship rounds — from the 10th to the 12th — and he just gets stronger and stronger as the fight progresses. And opponents cannot figure it out. It is just because he works so damn hard and trains so damn hard. He has this natural ability, of course, and he has this fierce instinct. He is from the gutter. He is from the jungles and, as he says himself in the documentary, he is not just fighting for the love of the sport; he is fighting for the Philippines, he is fighting for his mum and he is fighting for his whole kith and kin. You can't defeat that.
You think he has a couple of fights left?
It will be interesting to see. I think a couple more fights. Everybody keeps talking about Floyd Mayweather. I wish it had happened three years ago when they were absolutely in their prime. But listen, he is still a great, great champion. I grew up with Muhammad Ali as my idol and to have someone comparable to Al in Manny Pacquiao come along in my lifetime? That is like, 'Wow! I will die happy!'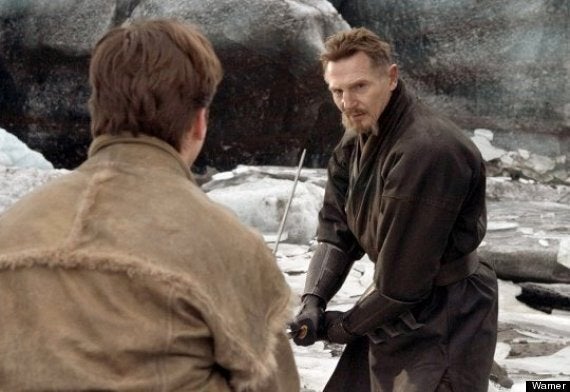 Liam Neeson is still a physical force on screen, here in Christopher Nolan's 'Batman Begins'
You've touched upon it, but with your boxing knowledge, Liam, what is it that makes him so good, technically?
He does what Ali did. He knows the structure of throwing punches and he is like a great painter. He knows the form and then he plays with it, in terms of his defence combinations and how he throws punches, which totally bamboozles his opponent. Ali did it brilliantly and Many Pacquiao does it, too. Also, for every punch you throw at Manny, he will throw five back at you and from different angles. He is like a mosquito. You just cannot pin the guy down. And, as I say, as each round goes on he just increases the intensity.
Do you have a favourite Manny Pacquiao fight or fights?
The four fights with [Juan Manuel] Márquez. Márquez will be remembered because of his fights with Manny Pacquiao, not because of Márquez on his own. He is a remarkable fighter too, but he will be remembered only because of Pacquiao.
And then there's the Oscar De La Hoya fight…
He just obliterated Oscar. I have seen Oscar fight several times, live, and he is a master. I saw him take the title from Julio César Chávez and he decimated Chávez for eight or nine rounds. And to see Pacquiao doing that to Oscar was like, 'Wow. Just phenomenal!'
No, I haven't. The producers got him to record a message to thank me for doing the narration. And he speaks with that lovely little voice and you kind of want to throw your arms around him and say, 'It's all right, Manny, I will look after you!'
You've played a boxer on film once before…
I played a bare-knuckled boxer in a movie with Billy Connolly and the great Ian Bannen, who has passed away. It was called 'The Big Man' (1990). Oh, God, it like 20 years since we made it. I was a bare-knuckled boxer and I think that was my boxing movie.
Didn't Spike Lee approach you about playing Max Schmeling [professional German boxer from the 1930's]?
Yeah, Spike came to meet me about 14 years ago and he wanted to tell the story of Max, the great German champion, and Jo Louis, just at the rise of Nazism. I hope he still does it. At the time, he was interested in me playing Max and I just had to say to him, 'Spike, dude, I am so honoured but I am in my 40s. I can't pretend to be someone 30 years of age or 28 years of age.' I could get into great physical shape but I was still a 42, 43-year-old guy. But that Max Schmeling and Jo Louis story is great. Max went on to take charge of the whole Coca-Cola outfit in Germany; he became a wealthy man, a very shrewd businessman. And then I heard that he was secretly paying Jo Louis' tax bills and stuff like that. It is just a great, great human story and when he lost his second fight to Louis, Louis just demolished him, broke his ribs and all the rest of it. Then he went back to Germany. He was a paratrooper. Hitler put him to be one of the first out of the aeroplanes and into the front line. He lived until he was 92 or 93, something like that. That's a real story. I hope that Spike Lee or someone tells that story.
Have you enjoyed any of the famous boxing movies?
Yes, of course. Raging Bull(1980) is terrific and De Niro's a pal of mine. The Hurricane (1999) was good. It played with the history a little bit. They had Hurricane Carter winning a fight that he never won. It is official — he never beat a guy called Joey Giardello. He never beat him. Cinderella Man (2005) was good. And it's really sentimental but there's the Franco Zeffirelli movie with Jon Voight and Ricky Schroder. It was a remake of an old film called The Champ (1979). It is very beautiful but very sentimental. Jon Voight really looked the business as a boxer; he was really believable. And then there is the first Rocky movie. It doesn't get any better than that. The boxing was okay but the whole story was f—king great. It is iconic.
'Manny' is available on Blu-ray and DVD now. Watch the trailer below...