If the kitchen is the heart of the house, the bathroom is the sanctuary – a place to freshen, cleanse and unwind. As such, it should be calm, clean and most definitely clutter-free.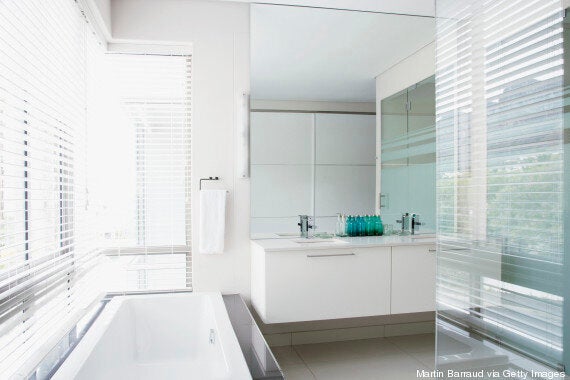 But according to Vicky Silverthorn, founder of professional decluttering firm, You Need A Vicky, that is rarely the case.
"A definite pattern I have noticed in people's homes – and more specifically bathrooms – is overbuying," she says.
"Products spoil, get lost in cluttered cabinets so they can't be seen and therefore used - and amounts build up. I've recently enjoyed the process of using up as many products as I could in my bathroom. My shelves are visible again!"
For a clutter-free cabinet, Vicky suggests the following tips:




Use up what you already have.
Bring products from the back to the front - if you can see it you're more likely to use it.
Don't have more than two of the same type of product on the go at the same time - once one is near empty enjoy the shopping process and choose a new one!
Be strict - if you don't need it – or probably won't use it – don't buy it.
Avoid keeping too many spares in the cupboard.
Take note of the life of a product when you buy and keep your eye on use-by dates.
With make up remember bacteria builds up on products.
Cleaning your bathroom will be much easier with more surface space visible!
Wherever you store your products be it a cupboard or a basket - make sure they are accessible so you don't forget about them.
For the products and items you do want to keep in the bathroom, but don't want cluttering your surfaces, Rebecca Tucker, interior designer and co-founder of Suna Interior Design, suggests incorporating minimalist storage.
"Inbuilt storage that is flush to the wall will keep the room looking smart and tidy," she says.
For a softer, more natural look, James Lawrenson, Senior Interior Designer for Atlas Interiors recommends the following tip:
"Use a collection of wicker baskets to keep towels and toiletries stylishly stored - a great alternative to wall-mounted bathroom cabinets. A leaning ladder shelf can be used to display your prettiest items or those you most need to hand."
Vicky has taken her bathroom a step further by opting for a bathroom detox: "I've switched to all natural products - if I can buy chemical-free, why wouldn't I?"
Find out more about going natural and having a bathroom detox with HuffPost's expert guide.
But first things first, now is the time to ditch those offending items we've all been guilty of hoarding at one time or another. Here are ten of the worst offenders you should purge yourself of right now.