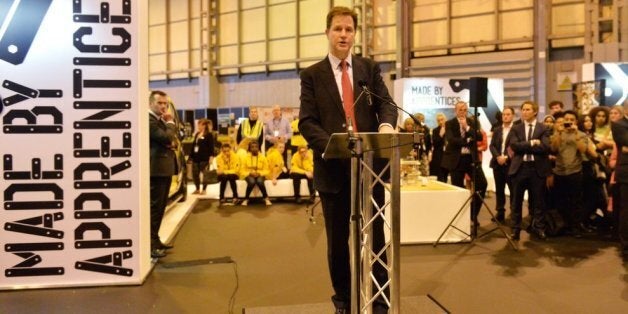 The UK's most talented apprentices and learners have been celebrated at this year's The Skills Show following their success in the WorldSkills UK Skills Competitions.
Nick Clegg, Deputy Prime Minister, who visited The Skills Show and watched the finals of the WorldSkills UK Skills Competitions, said: "It's fantastic to see talented and hard-working apprentices recognised and rewarded through this competition. I'd like to congratulate this year's winners for leading the way in developing their skills to secure the future career they dream of."
"Growing skills helps to build a stronger economy and a fairer society, giving talented young people the opportunity to get ahead in the industry of their choice."
Nearly 75,000 people attended The Skills Show and watched 588 apprentices and learners battle it out in 64 WorldSkills UK Skills Competitions, ranging from Forensic Science to Floristry, with the aim of being named 'UK Champion' in their chosen skill.
It is certainly an achievement to win gold as Stuart Davidson, from Newcastle College, who is City & Guilds qualified and competed in Automotive Body Repair explained: "To be presented with my medal in front of everyone at The Skills Show has been amazing. If I'm honest it hasn't really sunk in yet that I have won gold! Taking part in WorldSkills UK has allowed me to build on my knowledge and practical skills and has helped me to grow in confidence and progress in my career. I would definitely recommend entering the Competitions."
WorldSkills UK Skills Competitions, part of Find a Future, are designed to reward real talent and drive up levels of expertise in apprenticeships, skills and further education.
Visitors to The Skills Show were able to 'Have a Go' at different skills and meet with employers and National Careers Service advisors to receive the latest information on apprenticeships and other training opportunities.
Ross Maloney, Chief Executive, Find a Future explained: "It is through competition activity, The Skills Show and The Skills Show Experience that Find a Future can provide young people and their parents with the chance to get excited about the world of work and make informed choices about their future."
Outstanding competitors from this year's WorldSkills UK Skills Competitions may be invited to join the shortlist for WorldSkills Abu Dhabi 2017. WorldSkills is the world's largest skills competition and Squad UK is currently in training for WorldSkills São Paulo 2015 which takes place from 11 to 16 August, 2015.
To register for the next cycle of WorldSkills UK Skills Competitions visit worldskillsuk.org from 9 February 2015.