Dave Whelan, the multimillionaire owner of Wigan Athletic football club, has been accuse of anti-Semitism after he made comments to a national newspaper attempting to defend the appointment of Malky Mackay as manager.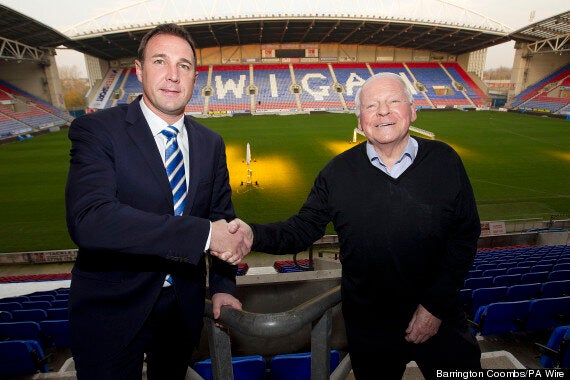 Wigan Athletic Chairman Dave Whelan with new manager Malky Mackay (left) following a press conference at the DW Stadium, Wigan
Mackay is currently under investigation by the Football Association over allegations of sending racist and anti-Semitic text messages to Cardiff's former head of recruitment Iain Moody whilst manager at the club.
The Scot's appointment by Wigan on Wednesday led to shirt sponsor Premier Range ending its association with the club.
Whelan's words were quickly criticised, notably by West Ham co-chairman David Gold, who told BBC 5 Live, "It's undeniable." Gold admitted to knowing Whelan for many years but added that this was the first hint of anti-Semitic feeling he'd detected from the 77-year-old.
Gold, who is Jewish, said: "Maybe its words that have come out that that he will now subsequently regret. I'm saddened by the words. I hope that in some way he retracts this because it is damaging relationships between him and many other people."
On the appointment of Mackay, Premier Range said on Wednesday: "The texts Mr Mackay has admitted to sending are wholly unacceptable – and the thoughts expressed within them are a shocking reminder of a past we thought football had left behind. A team that would employ a man who expresses views such as these is not the kind of team Premier Range wish to deal with."