Cher has cancelled the remaining dates on her 'Dressed To Kill' tour, for health reasons.
SEE MORE:
The iconic pop diva had 28 dates remaining on her North American tour, but doctors have advised her not to go ahead with the rest of her shows so she can fully recover from an infection that had "affected her kidney function".
Addressing the cancelled shows, Cher admitted that she was "devastated", but vowed that she would try and reschedule the shows, vowing: "I sincerely hope that we can come back again next year and finish what we started.
"I am totally devastated. Nothing like this has ever happened to me."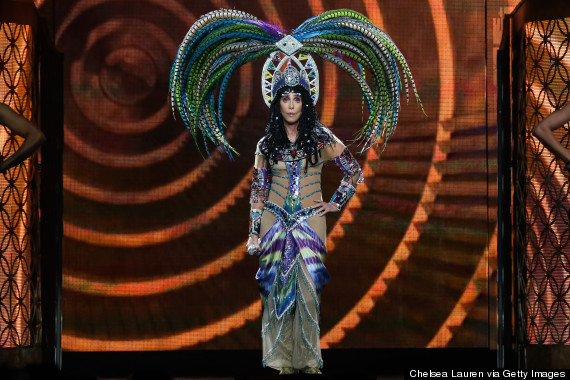 Cher performing on her 'Dressed To Kill' tour
And because the only thing Cher loves more than wigs and polishing her Academy Award is a good Twitter rant, she took to social media in the early hours of Friday morning to echo her disappointment about not being able to perform.
She apologised profusely to the fans who had bought tickets to see her, claiming she felt "gut wrenching sadness" about the cancelled dates.
I'm SORRY I Couldn't B the 1 to tell you about postponing my tour.

I Tried SO HARD 2b Strong enough,but my Will couldn't force my Body time😭

— Cher (@cher) November 21, 2014
let's talk about it tomm. Between gut wrenching Sadness of not being Able 2go on stage,

sing,b Silly,& wear new Mackie's & Mike

Dying,I'm💔😭

— Cher (@cher) November 21, 2014
Let's hope she can show that infection who's boss and get back on the road in 2015, after some much-needed rest.
Cher kicked off her 'Dressed To Kill' tour back in May, performing her classic hits as well as tracks from her latest release, 'Closer To The Truth'.
Of course, it didn't take her long to hit the headlines over her shocking on-stage outfit choices, which included an homage to her 'If I Could Turn Back Time' music video, and a nude-look bodysuit.
LIKE US ON FACEBOOK | FOLLOW US ON TWITTER