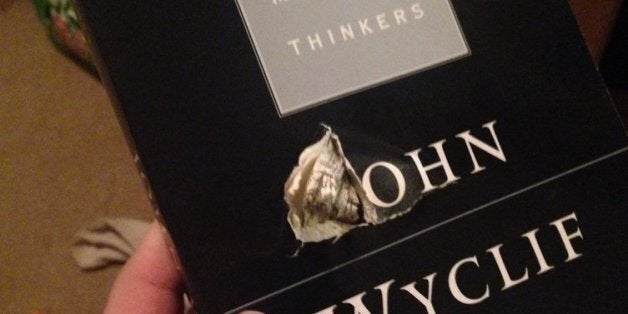 A student rented hardback book from his university library expecting it to help him with his studies - not save his life.
But the book took the impact of a bullet fired at the student during Thursday's Florida State University shooting - and he posted pictures showing the amazing stroke of luck to prove it.
Jason Derfuss was walking out of the campus library where the shooting took place and heard a gunshot behind him. He didn't feel the impact of the bullet and says he assumed he was fine.
Pictures show that a bullet was embedded within one book, having torn through the fabric of his backpack.
In a post on his Facebook page, Jason wrote: The shot I heard behind me I did not feel, nor did it hit me at all. (The gunman) was about 5 feet from me, but he hit my books.
"Books one minute earlier I had checked out of the library, books that should not have stopped the bullet. But they did."
"I learned this about three hours after it happened, I never thought to check my bag. I assumed I wasn't a target, I assumed I was fine. The truth is I was almost killed tonight and God intervened."
The gunman targeted the central library building at Florida State's Tallahassee campus. The incident saw three students injured and the gunman shot dead. Hundreds of students hid in the library during the attack, and documented the drama on smartphones.
Florida State's President, John Thrasher, said in a statement: "We are increasing security measures and providing a strong law enforcement presence on and around campus today. I have great confidence in the abilities of our local law enforcement agencies to handle this matter."
Since Thursday's incident more information about the gunman has been revealed. It is thought Myron May, a 31 year old lawyer, was behind the attack. Police are continuing their investigations and are analysing journals and other evidence belonging to May.