A British creative agency has been inspired by a love of all things Ferrari to come up with what just may be the next big thing in performance theatre – a cunning and beguiling mixture of all the latest graphic, musical and projection tools, but incorporating traditional forms of dance, mime, and a spanking, sparkling, speeding new sports car in the middle of it all. Oh, and it's in the middle of the desert, right next to where the Abu Dhabi Grand Prix took place.
It's a funny old world. Ferrari World Abu Dhabi to be precise, where one of the emirate's great sun-kissed, man-made islands is home to the world's largest indoor theme park, honouring the Italian supercar in all its forms.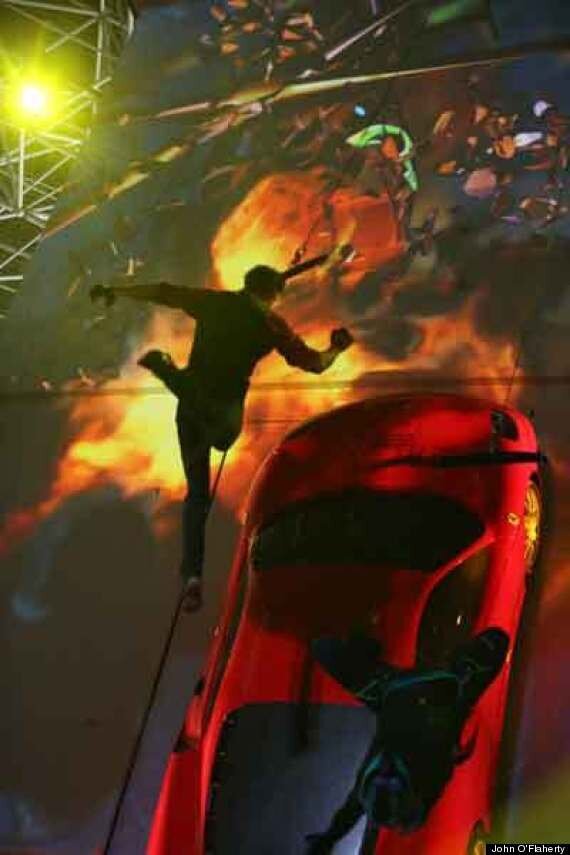 Mission Ferrari is London agency Drive's homage to the supercar - with performance tricks old and new
The park offers an eclectic homage to a brand old and new. It honours its Italian vintage. There's a museum full of Ferraris old and space-age-looking new, a restaurant offering pasta and lined with pictures of visiting legends including, poignantly, a smiling Schumacher. And it also celebrates its place at the centre of modern supercar technology, with rides including the world's fastest rollercoaster, and an impressive array of simulators, as well as the chance to beat the world record for changing tyres on an F1 car.
With all this going on, park bosses a while ago realised they needed something visual, exotic, a bit more cerebral, less competitive, or perhaps just a pit-stop for frazzled parents, and commissioned creative agency Drive to come up with two completely new shows to entertain the crowds. Drive was asked by The Business Creative, Ferrari World Abu Dhabi's Entertainment Consultants, to develop their initial concept of integrating live performance and 4d projection.
The London-based agency is experienced in creating shows with all the whistles and bells that come with projection mapping (see their previous show which lit up Millbank Tower and Deadmau5 on the Thames), but saw this as a unique opportunity to integrate all the modern tools of graphics and sound, with the more traditional skills of dance, mime and live performance, to create a deceptively seamless pair of shows, both with their own unique wow factor.
Mission Ferrari offers a narrative built around a secret agent, whose job is to protect a Ferrari from two thieves. The show involves three aerial dancers, fighting, running and jumping, so smoothly choreographed with the projection behind them, it doesn't look like they're real. The risk for the creators, of course, is that they've pulled it off so well, audiences may not actually realise just how difficult it was to bring all these components together. "You feel like adding an arrow saying, this bit was really hard," says project director Jim Hudson.
Viva Ferrari takes place on a stage, with two dancers conducting a romance against the backdrop of a labyrinthine mansion. Similarly, the show's success depends on the pinpoint timing between the dancers and the enormous projection behind them. Both shows are very effective, while completely different.
This is what Drive are calling 'brand theatre', tapping into the roots of the company, whose founders have all cut their teeth in events, concerts, exhibitions and even circus.
You'd expect something like this, on a far smaller scale, on the South Bank of the Thames in the summer, but not in the heart of a theme park like Ferrari World. And this cuts to the heart of one of the biggest challenges facing the entertainment industry, that is, would it be conceivable even to plan something on this scale without the patronage of a wealthy client?
Drive's Jim Hudson has earned his own entertainment stripes, with a diverting CV that boasts everything from booking Paloma Faith for a Glastonbury gig, swinging on a trapeze for a circus in Europe and escaping from a burning washing-machine in Spain. Unarguably a champion of bringing performance to the people, he is nonetheless under no illusions about the need for deep pockets to furnish an enterprise like this one.
"Leonardo Da Vinci, Turner, Gaudi - they all had patrons," says Jim. "Whether it's in a car park in London or the Arabian desert, whatever the scale of the thing, there's no denying art depends on sponsorship to flourish."
However, he's equally convinced that entertainment must remain at the heart of the offering.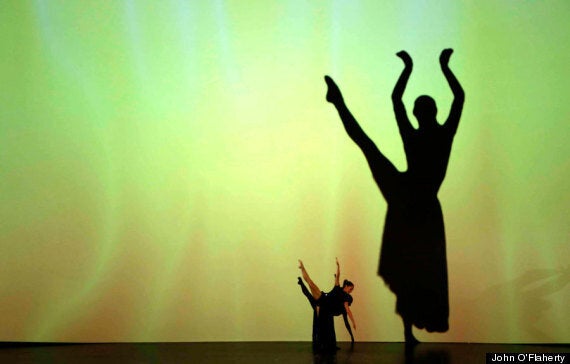 Viva Ferrari is a softer experience, showcasing ballet but also the firm's trademark technical projections
"It has to be ABOUT something," he muses. "We've found that audiences always know if they're being sold something, and they can literally start booing when it happens. It has to be far more subtle than that."
There's certainly been no booing at either Mission or Viva in Ferrari World. The crowds are coming and staying, and there are now plans in place to extend the run of both shows, particularly as there'll be a new Mission ride coming along too.
"I'm constantly after the wow factor," says Jim. "If I can hear one intake of breath in the crowd, then I can feel like I've achieved something."
Mission Ferrari and Viva Ferrari both take place inside Ferrari World Abu Dhabi. Click here for all park info. More pictures of the shows here....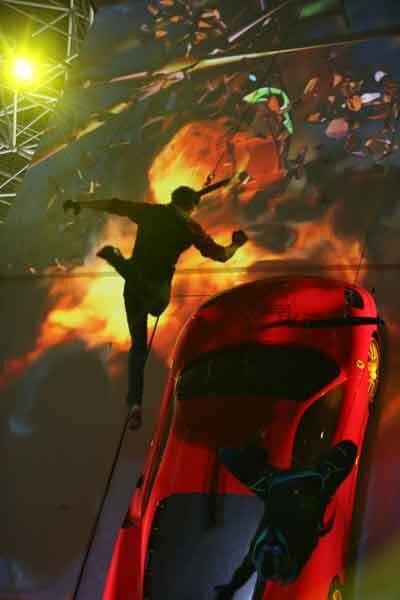 Mission Ferrari and Viva Ferrari Shows
Ferrari World lives in an enormous, sprawling building about three times the size of London's O2 arena, all under a similar sort of canvas-looking top. And just in case you were in danger of missing it - despite it dwarfing by far everything else on the island, including the neighbouring Grand Prix racetrack and marina for visitors to park their yachts - the acre-sized roof happens to be painted the scarlet hue familiar to all Ferrari lovers.

This wasn't a fool's errand. The location is ideal to cater to the huge interest in this part of the world. Such is the depth of both pocket and passion for these vehicles, curators didn't have to go far to stock the eye-boggling museum full of Ferraris old and new that forms one of the attractions. In fact, it turned out a local enthusiast had a few too many to fit into his garage – yes, really – and was happy to lend them to the museum. Well, storage can be pricey, don't you know?