The claim was made as new legislation is announced to beef up measures to fight terrorism, amid fears terrorists will travel to fight with IS, also known as ISIS or ISIL, to learn how to carry out terror attacks here.
One Whitehall official told the Daily Mail: "It is almost inevitable that something is going to happen in the next few months."
Scotland Yard commissioner Sir Bernard Hogan-Howe said that "four or five" plots have been foiled this year.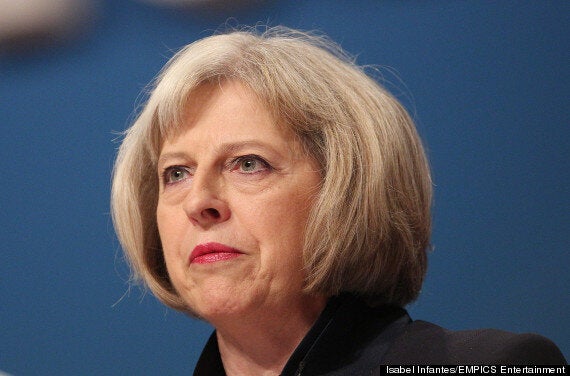 Theresa May described IS as 'the greatest terror threat' to Britain in the country's history
In an interview with The Daily Telegraph, Home Secretary Theresa May said Britain is "facing the greatest terror threat of its history" from IS and the prospect of "lone wolf" jihadi attacks.
The terror threat level in the UK was raised from substantial to severe a few months ago against a backdrop of increasing concerns over hundreds of aspiring British jihadis travelling to Iraq and Syria to learn terrorist ''tradecraft''.
The Home Secretary said the Counter-Terrorism and Security Bill, being introduced to Parliament this week, will make clear it is an offence for insurance companies to reimburse ransom payments.
The bill will also give police powers to force internet firms to hand over details that could help identify suspected terrorists and paedophiles.
Hogan-Howe told the BBC's Andrew Marr show that the heightened tempo was putting "pressure" on resources - hinting that he expects the Government to boost funding in the Autumn Statement.
Up and down the country, officers will be briefing more than 6,000 people at 80 venues including schools, universities, airports, shopping centres, cinemas and farms in a bid to engage the public and businesses in preventing attacks.
Mrs May, who will address a counter-terrorism event in London later on Monday, said: "Our position is clear - ransom payments to terrorists are illegal under UK and international law.
"Agreeing to meet the demands of barbaric groups like ISIL would only put many more lives at risk. These measures will ensure the UK remains at the forefront of global efforts to put an end to the practice."
Mark Rowley, the national policing lead for counter-terrorism, said the terror threat had "evolved".
"They are no longer a problem solely stemming from countries like Iraq and Afghanistan, far away in the minds of the public," he said.
"Now, they are home grown, in our communities, radicalised by images and messages they read on social media and prepared to kill for their cause. The tragic murder of Lee Rigby last year was a stark warning to us all about how real and local the threat is."
Popular in the Community