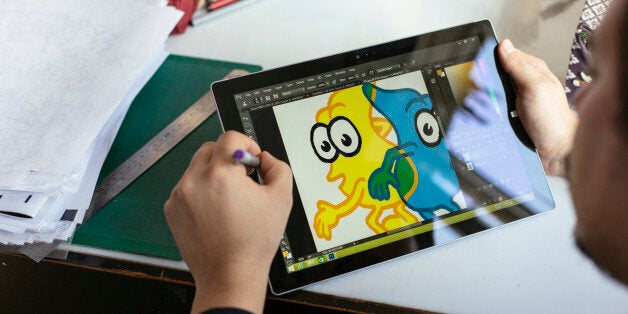 As we all know, children can occasionally find their parents' conversation tiresome, the rest of the time it's merely totally embarrassing. However, if your dad's nosiness happens to land him in a serendipitous exchange with a man holding drawings of Batman; and said man turns out to be Brian Bolland, one of Britain's best comic artists, you might let him off. And if Brian Bolland then invites you and your brother round to his house for the weekend and gives you signed drawings of Batman and the Joker, chances are it'll make a lasting impression.
This is certainly true for London based illustrator, Jiro Bevis, who was already a comic book fan and committed doodler at the time. "When I was a kid my dad was a big comic collector so he always had cabinets full of old DC comics, I used to go through them a lot. Being half Japanese I was also into a lot of Japanese Manga and Anime, so I guess those two sides were big influences as a kid. I'd always try to replicate them."
Throughout his fledgling years as an illustrator, Bevis never saw himself becoming a comic book artist; instead he used the basic comic book premise to shape his own style: "poppy, bold imagery that doesn't take itself too seriously," is Bevis' description. Upon graduating from Central St. Martins almost a decade ago it was this style he took to market and that has appealed to an array of clients across a number of different industries. Bevis' portfolio ranges from corporate (Sony, Bloomberg, Guinness) to clothing (ASOS, Urban Outfitters, Lacoste) with plenty of independent work in between (Young Turks, Vice, Black Lips).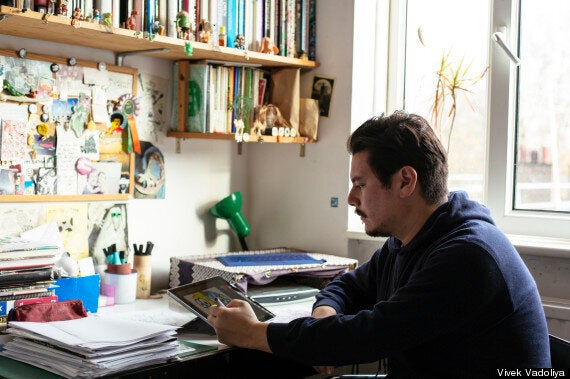 One such client is subculture publisher Ditto Press, with whom Bevis is collaborating for the #SurfaceCreate project. Bevis designed the original logo for Ditto Press and more recently created a reference chart of the different colours that Ditto print on a Risograph. The colours were given characters, which included the Hunter Green Christmas tree and the Fluoro Pink elephant. This time Bevis will design a narrative swatch demonstrating the different printing techniques that Ditto Press offer.
While Bevis' creative process remains heavily reliant on a pen and paper, he does a large amount of the post-production touch-ups and colouring on a computer. Bevis is always keen to experiment with new techniques. "Anything that interests me that I think could help in my work I will try and incorporate," says Bevis. "A pen can be very one-dimensional whereas the different pen types on the Surface Pro 3 can offer you more choice; it's just like another tool to use. It's getting the balance between the tech and non-tech that usually makes good illustration," he says, "I like how if you put an object on the Surface Pro 3, it would recognise the object and trace it itself, then you can play around with shapes and sizes and stuff like that."