Hugh Bonneville has revealed his latest co-star, Paddington Bear, was more badly behaved than any of his previous A-list castmates.
The 'Downton Abbey' star tells HuffPostUK that Paddington was much more of a diva on set than Oscar-winner Nicole Kidman, who plays the evil taxidermist in the big screen caper out this week.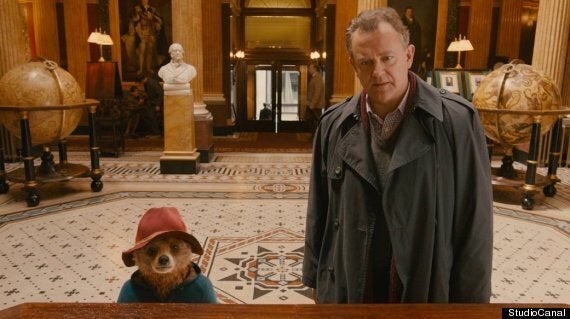 Hugh Bonneville with his latest co-star Paddington Bear - "ghastly behaviour in the trailer"
"The bear had been filming 'Mission Impossible' so he only flew in for a few days," he tells HuffPostUK.
"He had a stand-in for most of the time, and his behaviour in the trailer was pretty ghastly. He could only act after his first marmalade hit, couldn't stand up the rest of the time.
"At least Nicole would come out of her trailer and walk in a straight line."
Paddington is the latest in an impressive list of colleagues for Hugh, following 'The Monuments Men' earlier this year.
"The night before my first scene on 'Monuments Men', I was terrified when I looked at the call sheet," he remembers. "My first scene was with George Clooney, Bill Murray, Matt Damon and Jean Dujardin, so a few Oscars to spare with that lot.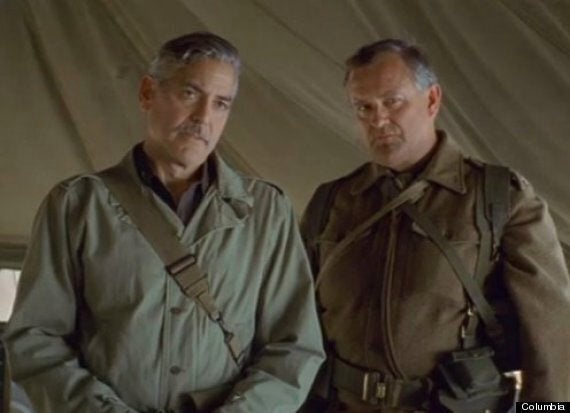 Hugh Bonneville with George Clooney in 'The Monuments Men'
"But, within about four and a half seconds, you realise they all go to the loo, too. They're just very good actors who enjoy their work and probably realise how fortunate they are, as one does oneself."
Hugh's character in 'Paddington', that of furrowed-brow father Mr Brown, shares some of the poker-faced qualities of his other two current roles, Lord Grantham in 'Downton Abbey' and middle manager Ian Fletcher in BBC mockumentary 'W1A'. Is he this serene in real life?
"I do think smiling in the face of adversity is a great quality to possess," he agrees, "whether that's people running amok on your estate, or a bear trying to flood your house."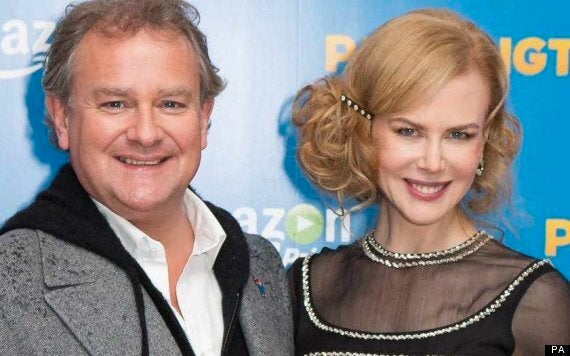 Hugh Bonneville with Nicole Kidman - "at least she could walk in a straight line"
Hugh reveals he was persuaded to take on the role of Mr Brown in 'Paddington' because the script had the feeling of a classic that would appeal to all the family.
"There are lots of jokes for adults to laugh at, as well as a great adventure for a young viewer. There's enough for each generation, so I don't think parents will be going under duress. And for men of a certain age, there's always Nicole Kidman."
Not to forget his own dedicated Bonneville fanbase?
"Grannies with their knitting, that's my bunch," he muses. "I do get quite a few cards with cats on the front, which is very nice."
'Paddington' is in UK cinemas from Friday 28 November. Watch the trailer above, and Warbeartons competition winner below, interviewing the stars on the red carpet...