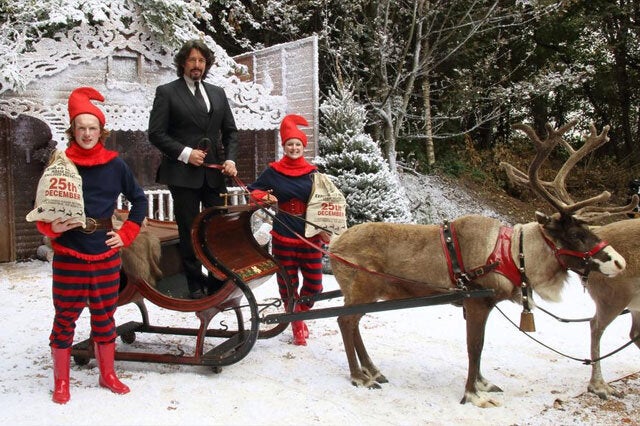 A Christmas wonderland designed by TV's Laurence Llewelyn-Bowen has been forced to close after just one day, following a barrage of complaints over long queues, unfinished attractions, lacklustre decorations and a Santa's Grotto which gave away unwrapped 'tat'.
The Magical Journey, in Wishaw, Warwickshire, announced last night via its Facebook page that it would be closed for three full days to make emergency improvements after a disastrous opening day.
Based on a golf course, the interior designer's winter wonderland charged up to £22.50 per ticket. In return, the website promised a 'truly incredible and extraordinary' festive attraction for families.
"Undertaken with Laurence's flair for the dramatic, it promises to be a spectacular and exciting Christmas experience for the whole family," the site assured potential customers - over-optimistically, it turns out.
The Magical Journey proved a distinctly unmagical experience for unimpressed parents (a damp Squib, Harry Potter fans might say).
Chief on their list of complaints were lengthy queues to the site's attractions - some of which turned out to be unfinished.
When kids finally got their chance to meet Father Christmas, parents were shocked to see them palmed off with cheap plastic toys (or, as one blunt mum on Twitter put it: 'Poundland tat') which were left unwrapped.
And to add insult to injury, angry punters weren't exactly wowed by the Changing Rooms star's vision of a Winter Wonderland.
"All of the staff were lovely and trying their best but the whole thing was woefully unprepared," mum Joanne Whitfield wrote on the attraction's Facebook page, which quickly became a place for visitors to swap horror stories of their visit.
"The most 'unmagical' thing was the traffic passing by metres behind Tinky the elf and her magic key tree in the magical woods!"
For their part, The Magical Journey's management blamed the lacklustre reception on an 'unprecedented' amount of rain (although you'd be forgiven for wondering what British attraction doesn't prepare for the possibility ceaseless drizzle).
"We were very far behind but I didn't want to disappoint children," a contrite Paul Dolan, the event's organiser, explained to ITV News last night.
"We thought there was enough there that people wouldn't see the small details that weren't there but there were too many small details and it built up. We shouldn't have opened yesterday. I can't apologise enough."
Disappointed customers are now being offered a full refund, while those with bookings for the next three days can contact the organisers for a refund or re-book their tickets for a future date.