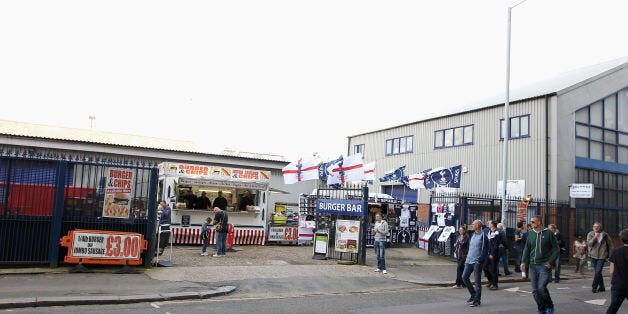 The last-remaining business which had refused to sell up to make way for Tottenham Hotspur football club's new stadium went up in a blaze early Tueday morning.
Firefighters were called to the fire at Archway Sheet Metal Works, on Paxton Road just yards from the club's White Hart Lane ground in north London, shortly after 5am today.
The firm is located on the final piece of land the football club needs to begin a protracted redevelopment of the stadium but the two sides have failed to reach an agreement after seven years of negotiation.
Earlier this year Archway and its owners, the Josif family, challenged a compulsory purchase order - triggering a High Court case and a new delay in the start of the project.
The company has previously claimed it has received threats and abusive calls from Tottenham fans.
Somewhat unsurprisingly, there were sceptical suggestions by football fans on Twitter about the convenient timing of the fire, including several from supporters of the club's bitter rivals Arsenal.
London Fire Brigade said the cause of the fire is under investigation.
A spokesman said: "Six fire engines and 35 firefighters and officers are currently attending a fire at a metal works on Paxton Road in Tottenham.
"Half of the ground floor and the whole of the first floor were alight, but the fire is now under control.
"Crews will remain at the scene this morning damping down remaining hot spots. There are no reports of any injuries.
"Fire engines from Tottenham, Edmonton and Stoke Newington fire stations are at the scene."
Tottenham plan to build a 56,000-plus capacity stadium next to the existing White Hart Lane ground, which holds just over 36,000.
In July the club overcame a major hurdle after the Government approved a compulsory purchase order allowing building work to begin.
But Archway's move to challenge the decision in the High Court resulted in a revised construction programme, with the club saying it was now "highly unlikely" the stadium would be ready for the start of the 2017/18 season.
The club is considering moving to a temporary home for a season during the construction period. Options mooted include Wembley and the Olympic Stadium, while reports of a move to stadium:mk in Milton Keynes have been met unfavourably by many fans.