Fifth Harmony, in case you weren't aware, are about to be seriously huge.
One of the stand-out acts from the American version of 'The X Factor', they were signed up to their mentor, Simon Cowell's record label after finishing in third place, and have spent the past two years working on music together.
Their debut single 'Miss Movin' On' received critical acclaim, and at this year's MTV VMAs they were named Artists To Watch over already-established acts such as Sam Smith, Charli XCX and 5 Seconds of Summer.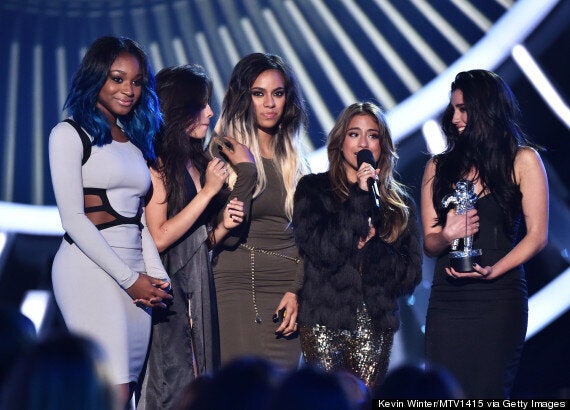 Fifth Harmony collect their 'Moon Man' for Artist To Watch at the VMAs
After making an impression in the States, they're now getting ready to launch their career here in the UK, kicking off with a performance of their debut European single, 'Bo$$', on 'The X Factor', which Dinah Jane Hansen, who makes up one-fifth of the group, admits is a pretty daunting thought.
"We were getting prepped for coming to the UK," she tells us, "And they told us being on 'The X Factor' was like the VMAs - only the big-time people perform on there.
"I feel like going out there, there is some pressure because we're performing in front of a new crowd - and it's where 'X Factor' originated so we need to make sure we're on point."
Dinah also reveals that, despite having worked closely with Simon Cowell on the recording of their forthcoming album, she still feels nervous singing for him, even two years after her first 'X Factor' audition.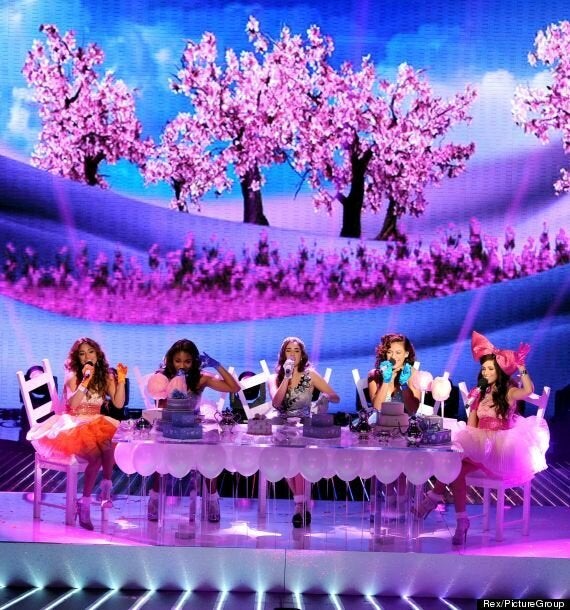 Fifth Harmony's performance of 'Anything Could Happening' on 'The X Factor' cemented their place as real contenders
"Whenever I perform in front of Simon it feels like the first audition every time. I go back to how I felt the first time I ever saw him, and I get butterflies every time," she explains.
But Simon isn't the only member of the panel who is playing on Dinah's mind. With not one but two former girl band singers watching their debut UK performance, Dinah says it's important that Fifth Harmony get it right in front of Mel B and Cheryl Fernandez-Versini.
She adds: "Two girl groups on the same panel - the pressure is kind of on, we're performing in front of two legendary girl group singers so it's like, 'I gotta make sure I whip my hair right and hit the notes'.
"But I actually have to be nervous before I go on stage… if I'm not nervous before I go on then something's gonna go wrong. I have to be sure I got those nerves running through my veins!"
Considering Fifth Harmony are a five-piece group of 'X Factor' solo singers, there are obvious comparisons to be made with One Direction, another Simon Cowell-managed band, who have gone on to become household names all over the globe.
But while some might find 1D's success a little scary, it doesn't sound like it's particularly intimidating to Dinah, who describes their world domination as "amazing".
"We've met the boys, and seeing how humble and down-to-earth they are, it's clear that there are people in the industry who are still so real," she explains, "And it makes us want to make sure we don't lose ourselves in this business. We learn something from them.
"I think it was Harry, he told us: 'Through anything, you should stick together. Make sure you never break your bond'. I guess that's something that's stuck with me - especially being five girls.
"I feel like that's something that's strong - we're always there for each other, any disagreements - especially over music, everyone has different tastes and different ideas - and when we have disagreements, we try not to let that break us, we try to understand each other."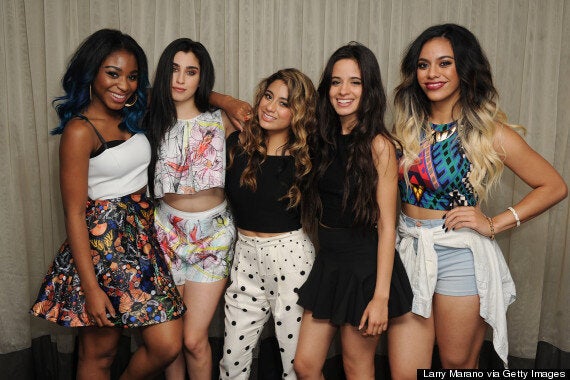 Off the back of 1D's success, a new surge of boy bands like The Vamps, Union J and 5 Seconds of Summer, which Dinah reckons has left a perfect space in the market for a group like Fifth Harmony.
She jokes: "Yeah there are so many boy bands out there - as a girl group we have to come out there and smash those boys real quick! Just kidding… but there's so many boys, why not have a girl group come out? Girl power is the way!"
That "girl power" sentiment is definitely there in their new single, 'Bo$$' which has lyrics boasting "I'm confident/Don't want your compliments/Use common sense" and "I pledge allegiance to my independent girls in here".
Dinah confesses that even she listens to the song when she needs to rev herself up.
After whizzing through an impromptu rendition of the song's tongue-twister bridge, she says: "It's great that our songs can uplift people. And 'Bo$$'... that song empowers me. Even guys come up to us and say: 'That song, it makes me become a 'boss'."
Listen to 'Bo$$', ahead of the group's 'X Factor' semi-final performance on 7 December, below:
Popular in the Community