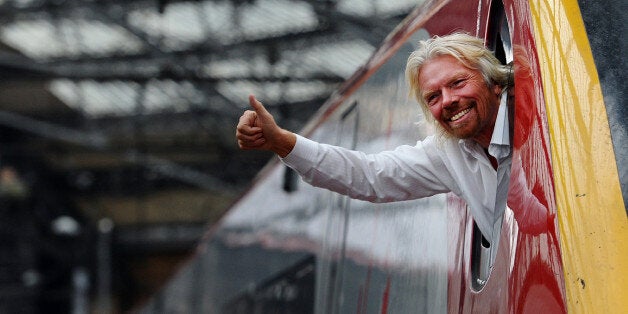 Ministers are under pressure not to sell the East Coast Main Line to Sir Richard Branson's Virgin group and the transport firm Stagecoach as this planned privatisastion "does not have political consensus".
The Government announced today that a consortium involving Virgin and Stagecoach had been chosen to operate a new eight-year East Coast franchise, the UK's two main London to Scotland rail routes, from March.
Transport Secretary Patrick McLoughlin said the new franchise was "a fantastic deal for passengers and for staff on this vital route" and would give passengers "more seats, more services and new trains".
However, shadow transport secreatry Michael Dugher said the travelling public had been "sold down the river" and revealed that he had written to the Department for Transport's permanent secretary asking him to postpone the East Coast sell-off as he warned that there had been an "obvious political nature" to its handling.
Virgin and Stagecoach already operate the West Coast main line and have promised improved services on East Coast which has been run in the public sector since 2009.
Transport unions, upset that East Coast has not remained in the public sector, described the franchise announcement as "an utter betrayal" and an example of "sheer political spite".
Under the terms of the eight-year franchise, run by "Inter City Railways", there will be:

23 new services from London to key destinations, with 75 more station calls a day
Plans for direct links to Huddersfield, Sunderland, Middlesbrough, Dewsbury and Thornaby
Proposals for more trains to London from Bradford, Edinburgh, Harrogate, Leeds, Lincoln, Newcastle, Shipley, Stirling and York
3,100 extra seats for the morning peak time by 2020
Across the entire train fleet there will be 12,200 additional seats - a 50% increase
65 state-of-the-art Intercity Express trains brought into passenger service from 2018, totalling 500 new carriages
Journey times from London to Leeds reduced by 14 minutes, and from London to Edinburgh by 13 minutes
A £140 million investment package to improve trains and stations
Over the next eight years Inter City Railways will pay the government around £3.3 billion to operate the franchise. McLoughlin said: "We are putting passengers at the heart of the service. I believe Stagecoach and Virgin will not only deliver for customers but also for the British taxpayer.
"This Government knows the importance of our railways. That is why they are a vital part of our long-term economic plan, with over £38 billion being spent on the network over the next five years."
Stagecoach group chief executive Martin Griffiths said: "A passion for customers, employees and the community is at the heart of our plans for the franchise. We want to build on the quality and pride of the people who will be joining our team."
Virgin Group senior partner Patrick McCall said: "We're delighted to have been chosen. Our long-term partnership with Stagecoach has seen a revolution in customer service standards, great product innovation, reduced journey times and improved timetables on the West Coast mainline.
"We plan to deliver similar success on the East Coast."
Meanwhile, Labour's Michael Dugher said: "The taxpayer and the travelling public have been sold down the river. This whole franchise process shouldn't have happened.
"East Coast has ... established itself as one of the best train operating companies in the country. Rather than rigging the franchise timetable in order to sell it off before the election, David Cameron's Government should have been putting the public interest first and working to get a better deal for passengers."
He added: "It's absurd that our own public operator is the only rail company in the world that has been barred from challenging to run its own services, on the ideological grounds that it is British and publicly owned."
Mick Cash, general secretary of the RMT union, said the reprivatisation of the line was "a national disgrace and an act of utter betrayal".
He added: "It is simply ludicrous to even contemplate reprivatisation when not only have there been two previous private sector failures on the East Coast route but when the public sector rescue operation has been such a stunning success."