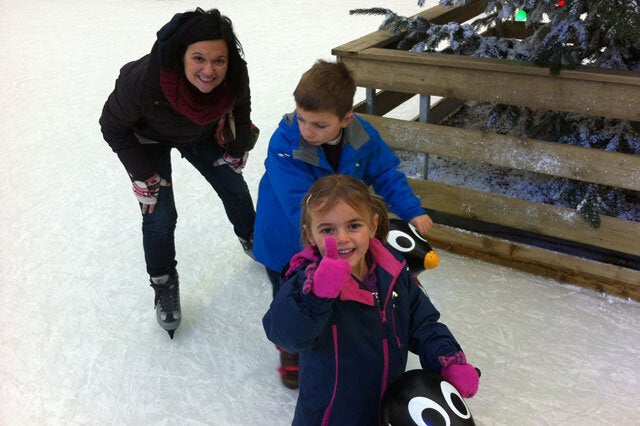 How can you make Christmas magical for a child after the death of a parent?
The excitement and merriment of Christmas can throw into stark relief the grief of a child whose mother or father has died; and parents - who are themselves grieving for a lost partner - face the difficult task of trying to help their child get as much enjoyment from the day as they can, whilst also allowing them to express their sadness.
Nikki Scott's husband Lee was killed whilst serving in Afghanistan on July 10 2009.
Nikki's son Kai, 10, and daughter Brooke, six, have since had five Christmases without their dad, and while Nikki says it doesn't get easier, she has found it is possible to make the day merry and special for her and the children.
"Christmas is a time when people come together as a family, so I think anyone who's lost someone feels it especially at Christmas," says the 33-year-old mum from Cambridgeshire.
"I knew that first Christmas was going to be tough. They're all tough, even now six years on, but there was so much darkness those first few months that I couldn't imagine how I was going to get through Christmas without Lee.
"But I was determined not to let the kids have a rubbish Christmas, as I knew Lee would have gone mad if I'd sat around crying, and in the end it wasn't as hard as I thought it was going to be."
Nikki shares some of the things she's learned about Christmas with children after the death of a parent.
1. Brace yourself for what should be the happiest moments of the day becoming some of the hardest - as there's no avoiding the fact that someone important is missing.
'That first year seeing the kid's faces when they woke up on Christmas morning and as they opened their presents was bittersweet. It was so nice to see them excited, but I felt gutted for Lee as he was missing out on seeing them.
'I still feel like that. Brooke was Mary in her school's Christmas play last year and I was so proud of her getting the main role, but I couldn't help but think 'Lee would have loved this'.
'Lee absolutely loved Christmas and he always made it fun and loud, and I still make sure it's like that, but now it does feel like there's a huge gap on Christmas day.
'Brooke was only seven months old when Lee died, so at the time she wasn't really aware what was going on, but Kai was five, so he was aware that dad wasn't there - very much so.'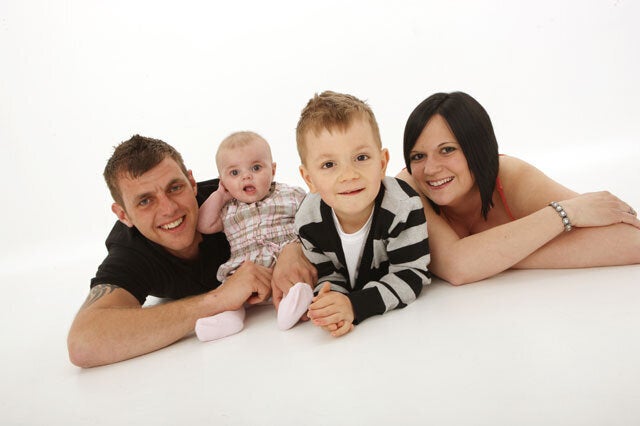 2. But don't try to fill that gap with extra presents - that's not what your children want.
'That first year I probably went a bit OTT with the presents. I felt so sorry for the kids. Sorry that they were having to spend Christmas without their dad. So I bought extra because I guess at the time I thought it would help a bit. But it doesn't, obviously.'
3. On the other hand if retail therapy is helping you cope - go for it.
'Another reason I bought the kids so many presents was just because I wanted to get out of the house and keep my mind busy, so I found it helped to go on a lot of long shopping trips.'
4. Don't shoulder the burden alone.
'I liked shopping by myself, so I could have some alone time. But on Christmas Day itself I wanted lots of people around me. So we rented a house near the beach with Lee's dad, my parents and some of our friends, and in a really weird way having so many loved ones around made it a really nice Christmas.
'It was just nice to have that support and it meant I could have time on my own when I needed it, because I knew there were loads of people around the kids and other children for them to play with.
'I think deep down as a parent, however hard you're working to make sure the kids have fun, you can't escape from the reality. It's always there, it always will be, and you have to accept that you're going to feel sad.
'I broke quite a few times that Christmas, so just being able to go off and be on my own was really important.'
5. When friends ask how they can help, pass them the oven mitts.
'If your friends want to know a good way to help, ask them to take some of the pressure off you by cooking the Christmas dinner.
'You might initially feel like you want to do it yourself to keep busy, but its a stressful meal to cook at the best of times and however together you think you are, the grief is going to hit you at times. So don't put any extra pressure on yourself to do anything other than just be there.'
'I know for some people, it'll be important to spend the day in the house where they spent time with their partner. But we rented a house for all our family and friends to stay in and I'm so glad we did, as it was good for me and the kids to be somewhere completely new, somewhere not full of memories. It was neutral ground.
'It added to the excitement for the kids as well. Deciding which bed to sleep in made it feel more like a holiday, I guess. To be honest, it was just a completely different Christmas from anything we'd ever done before and I do actually think that helped.'
7. Children may need to be told it's OK to smile.
"That first year it was like a part of Kai had gone a little bit and it's taken years to rebuild his confidence and let him know it's OK to be happy.
'I had to keep telling him 'it's OK to smile' and 'it's alright to have fun'. But together we got there and I think even that first year he did still have a good Christmas.'
8. You may need to learn this lesson too.
'What's really difficult is that you want to have fun with your children, because you don't want their Christmas to be ruined, but then you feel guilty for enjoying yourself.
'You worry that if you're laughing, someone might think that you're not thinking about your husband. But really everyone just wants to see you smile, even if you can't keep it up the whole day.'
9. Your partner can still be a part of the celebrations.
'Lee is still a part of our Christmas. We always visit his grave, if not on Christmas Day itself, then in the run up to Christmas. Rather than leaving flowers the kids like to leave a balloon or a card they made at school, something a bit more fun. When we go to the grave they'll hug or hold each other's hands.
'We also have a Christmas decoration with Lee's photo on it, which always goes on the tree. Brooke calls it daddy's angel.'
10. Kids may take you by surprise and make you smile.
'We now have a tradition which Kai started that first Christmas. At the dinner table he stood on his chair and said 'cheers to daddy' and everyone raised their glasses.
'I'm so pleased he did that, because it showed that he felt comfortable to talk about his daddy even when there were so many people there that day.
'I love Kai's tradition. I love it because it comes from Kai. No one told him to do it, he just got up and did it, and now he always does it.
'It's really special and I love that now Kai and Brooke are both very open and they will just talk about Lee whenever they want and to anyone. That's really important because he's still a big part of their lives.'
Nikki is the founder of Scotty's Little Soldiers, a charity that supports children who have lost a parent who was serving in the British armed forces.