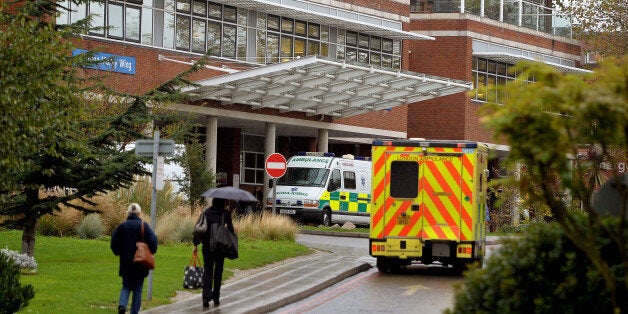 Chancellor George Osborne has insisted that he can afford to inject more cash into the National Health Service (NHS) in the face of accusations from Labour that he is making billions of pounds in unfunded spending commitments.
Mr Osborne confirmed that he would set out plans for an additional £2 billion a year for frontline NHS services when he delivers his set-piece Autumn Statement on Wednesday.
Appearing on BBC1's The Andrew Marr Show, he said that he would supplement the investment by using the money raised from the fines imposed on the banks in the Forex rate-rigging scandal to improve GP services.
"Because we have a strong economy and we have got the public finances under control, we can afford to put £2 billion into the frontline of the NHS across the United Kingdom," he said.
"And, indeed, we can go further and use those fines that have been paid by the banks for a permanent improvement in GP services.
"This is a down payment on the NHS's own long-term plan. It shows you can have a strong NHS if you have a strong economy."
For Labour, shadow chancellor Ed Balls said the Government created the crisis in the NHS through its re-organisation of the service and accused Mr Osborne of racking up billions in spending commitments without any explanation of how he could pay for them.
"This is a typical Tory pattern, a winter crisis and then crisis money coming after," he told The Andrew Marr Show.
"The Conservatives are coming along now with unfunded commitments. The deficit is huge. They are making unfunded commitments. The Tories are really putting the NHS in danger. "
Mr Balls said that Labour would put a further £2.5 billion into the NHS over and above the Government's plans paid for in part by a "mansion tax" on properties worth over £2 million.
"We will over and above their plans put in a further £2.5 billion. Whatever they do we need more money for the National Health Service - £2.5 billion more for 20,000 more nurses, 8,000 more GPs," he said.
"I think our NHS is in real crisis. We need a long-term plan. We have a winter crisis because the Tories have mismanaged and privatised and caused chaos in the NHS."
Mr Osborne said that he would be unveiling details of the Government's infrastructure plan tomorrow ahead of the Autumn Statement.
"You are going to see major improvements on key roads, to the south-west of England, through Norfolk, up through Northumbria. So we are investing in our economic infrastructure, we are backing our businesses," he said.
He indicated that he was preparing a new squeeze on welfare spending to pay for his plans - including £7 billion in tax cuts through raising the personal allowances for basic and higher rate taxpayers if the Conservatives regain power in next year's general election.
"We have got to make tough decisions in our public expenditure, in our welfare budget, and that is how we can afford these things. Our plans involve spending reductions, they don't involve tax increases," he said.
"I think we should be making savings in welfare to spend money on economic infrastructure like roads and to sharpen work incentives, giving support to our working tax payers by increasing tax-free allowances," he said.
Mr Balls later indicated that he may not be able to match Mr Osborne's commitment on the NHS and go ahead with Labour's proposed additional £2.5 billion if it involved unacceptable cuts to welfare.
"If he is doing it through a 10% cut in child benefit, then I will have to think again," he told BBC Radio 5 Live's Pienaar's Politics.
Paul Johnson, of the Institute for Fiscal Studies, said that the Chancellor will have to admit on Wednesday that the public finances are in worse shape than the Office for Budget Responsibility was forecasting at the time of the last Budget in March.
"Things haven't gone as well as hoped since March, not in the sense that the economy has done less well than hoped, but because earnings growth has been relatively poor, other tax receipts have been relatively poor. We'll probably end up with the deficit a bit higher than the OBR was expecting back in March," he told BBC1's Sunday Politics programme.
He said that even with the Chancellor's promised squeeze on welfare benefits, there would have to be big cuts to other public services in the next parliament.
"The consequence will be that by 2018 we are looking at spending cuts of one-third in a whole slew of public services - local government, police, justice, police environment - all of these things," he said.