Unless you've been living under a rock for the past few years, you can't have missed the juice trend. From celebs to the girl next door, everyone has been glugging down a glass of the good stuff – and we're not talking about orange juice from a carton.
Cold-pressed juices (think raw) are the latest trend, and so much more than an accessory popped into your yoga bag.
Step forward Imbibery aka Lily and Meryl.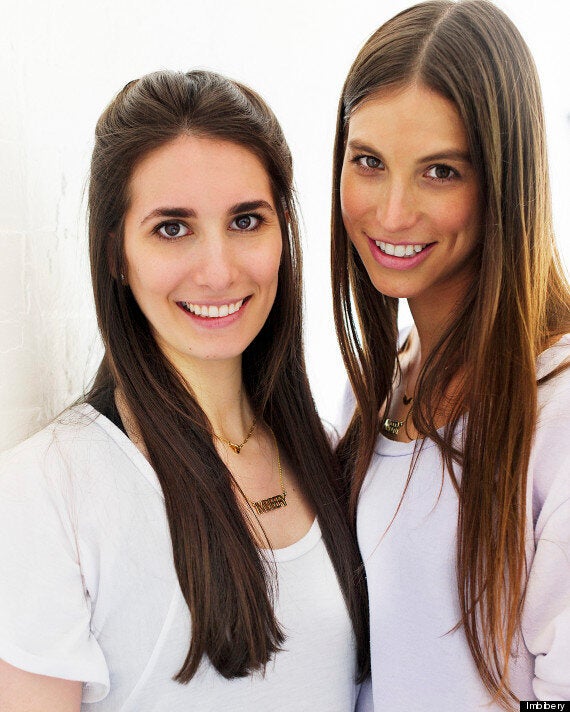 Having moved to London and unable to find the juices that would allow them to detox and 'reset' (without having to commit to a full cleanse), they decided to do it themselves.
We caught up with Lily and Meryl to see if cold-pressed juices are just a passing fad …
What was the inspiration behind Imbibery?
Meryl: Lily and I met at university, we were best friends there. Cold pressed juices were big in the US but the only way to get them here was to order cleanses online. We thought if we wanted to stay in Europe, we would need cold-pressed juice, so we would have to do it ourselves.
We share a passion for wellness, and we couldn't reset without having a cold-pressed juice to start our day. We're not really into cooking and this is an easy way to get nutrients. It has that convenience factor. It's not a fad, it's a life.
Healthy doesn't mean that it can't be yummy, we spent six months developing the recipes to get the flavours and nutrients right.
How did you go about developing the flavours?
Meryl: We had cucumber all over us constantly and we spilled a lot of juice. Whatever came our way, we just got on with it. We were asked by Nicole Farhi to do the juices for her fashion week presentation, with less than two days notice.
What's your most popular flavour?
Lily: Our green juice definitely, which is a great natural pick-me-up. It helps with digestion, to clear up your skin and it's packed with antioxidants and vitamins.
Our Chloro juice is also really popular. It's packed full of spinach, celery and cucumber and is a real energy boost and stress reliever.

What's the best combination for a hangover?
Meryl: All our juices are good for a hangover because you need nutrients and that's what you're getting from these.
I would say, though, our Roots juice. It flushes out toxins and helps with digestion and relieves congestion, so it's great in the cold and flu season too.
What are the health benefits for doing a juice cleanse?
Lily: The way they're made, in general, means that they have the most nutrients and anti-oxidents. There's no fibre so it gives your digestive system a break. It's fast food in the sense that you grab it and go, and it goes straight into your system. It's like a big bam of nutrients.
A cleanse gives your digestive system a chance to chill out but the method of juicing is really important. For example, when juicing at home, the blades will spin which creates friction and then heat up, so the ingredients won't maintain all of their nutrients. Cold pressed juices are the only way to make sure the ingredients are truly alive.
Why do you think cold pressed juices have become so popular? Is it just a fad?
Meryl: No. Looking good and feeling good is never a fad. It's just fruit and vegetables, which every kid was told to eat when they were growing up. We're not doing anything funky, new or weird to them. It's really simplistic.
Lily: We want to make this part of the UK's life. It can be breakfast, a snack, or whatever. You get so much more nutrients from cold-pressed juices than you would chewing your food in your normal day. Deprivation and juice shouldn't go hand in hand.