Outraged fans of Jimmy Bullard have accused ITV bosses of manipulating 'I'm A Celebrity' footage so that its own stars look better.
MORE 'I'M A CELEB':
Jake Quickenden arrived in the jungle just weeks after being eliminated from one of ITV's biggest shows (that's 'The X Factor', for those who live under a rock), while Melanie Sykes is also a presenter for the channel, and has been portrayed positively so far.
When Jimmy watched a highlights compilation of his time in the jungle during Monday night's live show, he noticed that a large part of his argument with Jake had been left out, though the parts where he mocked the singer's lack of talent were all present and correct.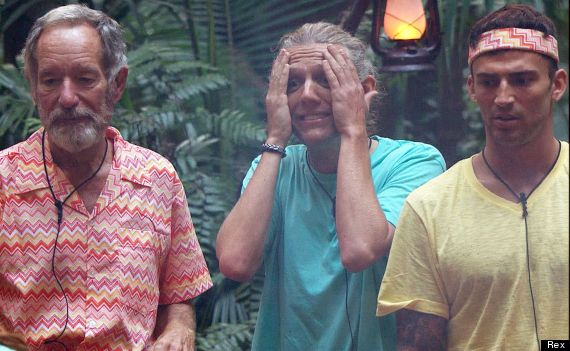 Michael Buerk, Jimmy Bullard and Jake Quickenden
Ant and Dec were quick to point out that both sides of the argument had been shown in the main show when the argument first occurred, but that didn't stop some viewers from putting on their Sherlock Holmes hats and accusing ITV of unfair editing on Twitter:
ITV is a fix. 100%. Kicked him off because he's slagging off X factor. #ITV

— Harry Millard (@HarryMillard_94) December 1, 2014
It's ridiculous that jimmy has gone All because of itv editing one bit with jake and manipulating everyone to think that he's an arsehole

— Nan_bread✌️✨ (@Disney_princ3ss) December 1, 2014
Very disappointed with #ImACelebrityGetMeOutOfHere @jimmybullard was a clear jungle king. Me suspects ITV want Jake to win. Clever editing

— sarah purton (@sarahlucy123) December 1, 2014
@ITV shame you rigged this years #ImACelebrity was looking like being a good show. @ITV are thinking of @JakeQuickenden future commission

— James McAlpine (@jmc84) December 2, 2014
Everything on ITV is a fix I swear✋

— karli smith (@karliismith) December 1, 2014
Seems to me ITV have rigged Im a Celebrity for Jake to be the main star. Got rid of his main competition in Jimmy already

— Positivity (@ChilledOut_Guy) December 1, 2014
@antanddec @wtoconnor your shocked?!? @ITV blatantly fixing the show for Jake to win with a fake bullying storyline. 👏👏👏 #ImACeleb

— Tommy Roberts (@Tommy11_7) December 1, 2014
And, in news that will surprise precisely no one, even Katie Hopkins has weighed in on the debate, claiming that, in her opinion, Jake (or, as she kindly branded him, "the thick inbred") is being edited favourably because ITV want to use him in future projects.
Now we have a tortuous week without comedy in camp. See how shocked they all were? because THEY have the full story. You don't #ImACeleb

— Katie Hopkins (@KTHopkins) December 1, 2014
Jimmy: 'you didn't hear what Jake had to say first'. No Jimmy, we didn't. ITV have plans for the thick inbred in their stable #ImACeleb

— Katie Hopkins (@KTHopkins) December 1, 2014
Tell you what @ITV, manipulate all the characters out of camp and we will watch prats more bland than rice and beans. Good plan. #ImACeleb

— Katie Hopkins (@KTHopkins) December 1, 2014
However, a spokesperson for ITV has insisted that this is not the case, and that the 'I'm A Celebrity' editing process is not biased in any of the campmates' favour.
They told The Mirror: "Everything broadcast is a fair and accurate representation of life in the camp."
Nine campmates now remain in the 'I'm A Celeb' jungle, following Jimmy's elimination, hoping to follow in the footsteps of last year's King of the Jungle, Kian Egan, and be crowned winner of the show.
LIKE US ON FACEBOOK | FOLLOW US ON TWITTER