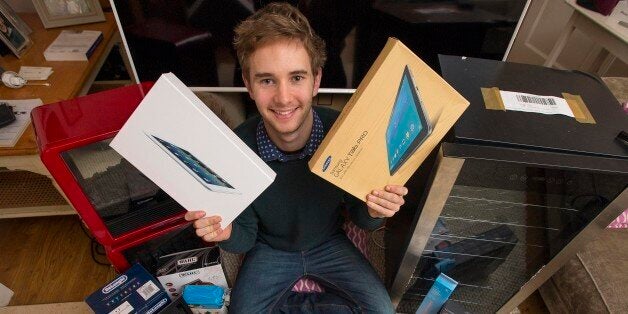 Christmas definitely came early for one student who has been told he can keep £3,600 worth of gifts from Amazon which were mistakenly sent to him.
Robert Quinn received packages including a £889 55-inch Samsung 3D TV, a Galaxy Pro tablet, worth more than £300 and a laptop.
The Liverpool University student rang Amazon to alert them of the mistaken deliveries but was told "it's on us".
The parcels were all delivered to his family home in Bromley, south London, and several have already caught the eyes of his family members.
"My brother wants the Dolce and Gabbana aftershave and my dad wants the Galaxy tablet," Quinn added. "My brother can get the aftershave but I'm not sure my dad can have that tablet for free. My mum wants the leaf blower, she can have that. The rest I might sell back on Amazon."
The 22-year-old wants to put the profit he'll make towards a trip to Bruges with his girlfriend, and developing an electrical cannabis grinder.
"I'm thinking about getting a patent on it," he added.
A spokesman for Amazon said: "This matter has now been resolved and I can confirm that on this occasion the customer has been informed that he can keep the items that were delivered."