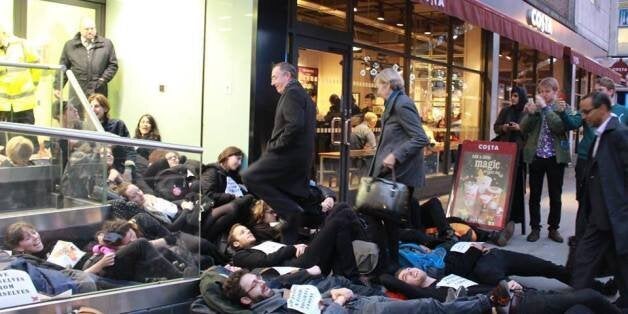 Students "dropped dead" outside a UCL Council meeting last Friday to protest the university's reported £14.4m investment in the fossil fuel industry.
Around 70 students staged a "die in" on Tottenham Court Road, blockading the doors, the steps, and the step-free access ramp as university managers arrived in the late afternoon for the meeting.
The action formed part of a long-running campaig by the student protest group Fossil Free UCL, which has been urging the college to divest its shares in fossil fuel companies like Shell and BP in favour of greener investments. The protest was called in part due to the group being supposedly frozen out of ongoing discussions.
Beth Perkin, one of the organisers, told Pi Media Online: "We want UCL to be a global world leader in stopping fossil fuel companies from leading us straight into climate chaos."
"We need UCL to stop contradicting their own research, we need them to abide by their own ethical investment code and to stop investing in fossil fuel companies."
Students claim the university's investment in the fossil fuels industry may potentially violate its guiding principles that state the college must "conduct itself ethically and fairly, and in an environmentally sustainable manner, locally, nationally and globally".
Pi reported that one member of the UCL Council refused to enter, suggesting it was "too undignified to walk over pretend dead bodies". But second year student Guin Carter claimed the UCL provost Michael Arthur asked security to "come remove this person" before stepping on her to enter the building.
The UCL Provost later told Pi: "I respect the right of the students to protest peacefully within the law and acknowledge that such an event occurred at the entrance to the venue for the UCL Council meeting this week.
"UCL Council has procedures for considering requests to divest on ethical grounds and it had already initiated that process in this case. The ethical investments review committee will now undertake its work and will report to Council in due course".
A spokesperson from UCL told the Huffington Post UK: "The university has no issue with peaceful protest which is within the law and doesn't stop others going about their business. I am not aware of anyone having been stepped on.
"UCL is committed to an investment policy that is guided by ethical considerations. We are currently engaged with the Fossil Free UCL campaign, who have asked us to consider a number of investments under the terms of that policy, and this process is ongoing, specifically through careful consideration of our investments by the Ethical Investment Review Committee.
"This is a work in progress, and we will provide updates as this develops. I understand there is another meeting taking place between UCL and members of the campaign."
Popular in the Community