How do you create the illusion that there is something physical yet invisible? Well if you're a researcher at the University of Bristol's Department of Computer Science then you use Ultrasound.
How does it work? Well the research teams have developed a way to focus the ultrasonic beams in such a way that combined, they can create any 3D object which the user can then 'feel' as they pass their hand through it.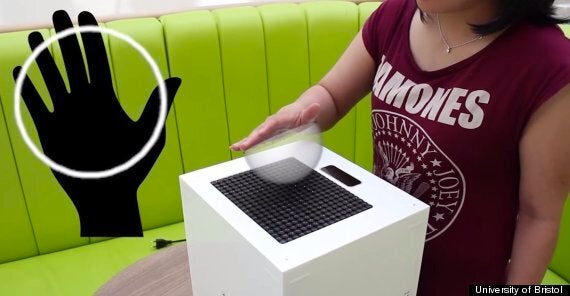 Because the shape itself can't be seen the researchers have created the ultrasonic projector to be just one aspect of a futuristic controller that would employ other new technologies like holograms.
When combined with a hologram the team believes it would be a truly viable way of creating a 3D virtual object that could be felt as well as seen.
Study leader Dr Ben Long said, "Touchable holograms, immersive virtual reality that you can feel and complex touchable controls in free space, are all possible ways of using this system, in the future, people could feel holograms of objects that would not otherwise be touchable, such as feeling the differences between materials in a CT scan or understanding the shapes of artefacts in a museum."
Popular in the Community