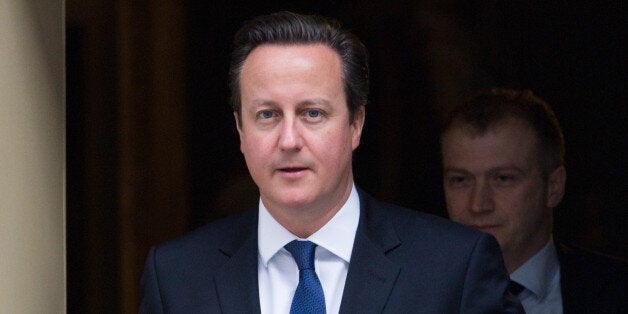 David Cameron has attacked the BBC for its "hyperbolic" coverage of government spending cuts.
On Thursday morning, George Osborne lashed out at the BBC for its coverage of his Autumn Statement. Downing Street said the prime minister's agreed with his chancellor's criticism of the broadcaster.
The BBC has defended itself, insisting it had been "fair and balanced" in its reporting. Downing Street appears irritated at the BBC's assistant political editor's Norman Smith's description of the Office for Budget Responsibility (OBR) report into what the next government may have to cut as a "book of doom".
The prime minister's official spokesman said such "hyperbolic descriptions" did not "help the type of debate we need" about the economy.
"I don't think that they help us have what is important here, which is a clear and sensible and measured debate about the decisions that both are being taken and need to be taken in the future," the spokesman said.
As the chancellor delivered his Autumn Statement yesterday, the OBR cautioned that the squeeze on Whitehall budgets after the general election - expected to total £30 billion - would pose "significant challenges".
But Osborne today condemned "hyperbolic" predictions about the consequences, insisting that Britain would not descend into a George Orwell-style dystopia.
In a tetchy interview with John Humphrys on the BBC Radio 4 Today programme, Osborne complained that the corporation's coverage was like "listening to a rewind of 2010".
"You had BBC correspondents saying Britain is returning to a George Orwell world of the Road To Wigan Pier. It is just such nonsense. I thought the BBC would have learnt over the past four years that its totally hyperbolic coverage of spending cuts has not been matched by what has actually happened," he said.
He added: "What I reject is the totally hyperbolic BBC coverage of spending reductions. I had all that when you were interviewing me four years ago and has the world fallen in? No, it hasn't."
Complaining of "unfair" treatment, Osborne said that, although growth was expected to be 3% this year, tax revenues were still struggling, partly due to the "massive" 2008 credit crunch.
In a statement the BBC said: "We're satisfied our coverage has been fair and balanced and we'll continue to ask ministers the questions our audience want answered."
Shadow chancellor Ed Balls said the £90 billion of borrowing now expected this year showed Osborne's plans were not working, and promised that Labour would make "fairer" choices to increase wages and take the burden off the less wealthy.
Tensions within the Coalition about how to finish the job of balancing the books by the end of 2017/18 burst into the open as Liberal Democrat Business Secretary Vince Cable said he had made "very, very clear" his opposition to Tory plans to achieve the goal by cutting departmental budgets and welfare without increasing taxes on the wealthy.
Cable said his Conservative colleagues wanted to cut public spending "rather more brutally than we think is necessary or desirable" and their plans were "simply not realisable".
Speaking from the Bentley factory in Crewe later this morning, Osborne criticised the Liberal Democrats for apparently trying to distance themselves from the statement.
Asked about Nick Clegg's decision to make a visit to the South West instead of being in the Commons for the statement, he told Sky News: "Frankly, it's his business. He can choose to be anywhere he wants in the country. In private they sign up to all these decisions then in public they slag 'em off. But that's for them to explain to you."
Clegg denied trying to distance himself from the measures announced. He told LBC: "I've been doing Autumn Statements and Budgets for five years now and sitting dutifully there. And, by the way, of course I have worked on this meticulously for weeks. Everything in that Autumn Statement is in there because we have agreed it and I fully support it."