Luke Somers, an American citizen, was captured in the Yemeni capital Sana'a more than a year ago and now al Qaeda in the Arabian Peninsula (AQAP) have filmed a video with a message aimed at the US government to kill the hostage if its demands are not met. The video has since been posted on YouTube.
Somers has worked for both the BBC and Al Jazeera, and moved to the country as a teacher, but began documenting the uprisings in the country in 2011, just two weeks after arrivingaccording to a piece on the BBC website. He also took photographs documenting malnutrition in the country, and celebrations of the Prophet Muhammad's birthday.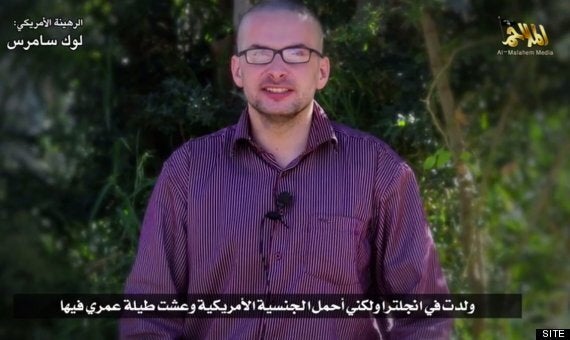 Luke Somers, filmed in the video from AQAP
He said: "My name is Luke Somers. I'm 33 years old. I was born in England, but I carry American citizenship and have lived in America for most of my life.
"It's now been well over a year since I've been kidnapped in Sana'a. Basically, I'm looking for any help that can get me out of this situation. I'm certain that my life is in danger.
"So as I sit here now, I ask if anything can be done, please let it be done. Thank you very much."
Al Ansi gave the US government three days to meet the demands or "otherwise, the American hostage held by us will meet his inevitable fate".
The three-minute video also features Ansi speaking about American activity in Afghanistan, Somalia and Iraq as well as recent air strikes in Syria.
The paper said that as well as being "the most active photojournalist at Change Square" where much of the revolutionary activities took place, Somers had worked as a copy editor for Yemen Times, the Yemen Observer, and National Yemen, and in 2013 had been working for the National Dialogue.
It follows similar videos by another extremist militant group, Islamic State (IS), which has already killed two British hostages and three American hostages in videos released on social media.
And official figures suggest around 500 Britons have travelled to Syria and Iraq to fight for IS, while others have joined up with Kurdish groups to fight against the militants.
The Government last month announced a raft of new anti-extremist measures, including ensuring insurance companies can no longer foot the bill for terrorist ransoms, suspected foreign fighters will be blocked from returning to the UK and powers will be reintroduced to relocate terror suspects across the country.
Popular in the Community