A British-born photojournalist held hostage in Yemen by al Qaeda was "murdered" in a failed rescue attempt, the US defence secretary has confirmed.
Chuck Hagel said Luke Somers, an American citizen, was shot by his captors during the raid on Friday night, which was the second attempt by the US to rescue him.
Mr Somers, 33, was taken hostage in the Yemeni capital Sana'a more than a year ago by the extremist Islamic group, which last week released a video threatening to kill him if its demands were not met by the US authorities.
His sister Lucy said the family were informed of his death by the FBI this morning.
Lucy Somers told the Associated Press (AP): "We ask that all of Luke's family members be allowed to mourn in peace."
US president Barack Obama described Mr Somers' murder as "barbaric" in a statement reported by NBC News.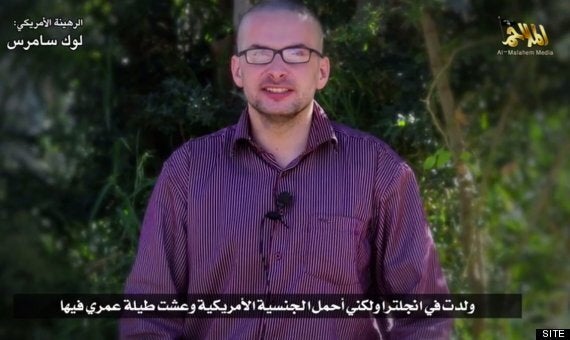 Luke Somers as he appeared in the video
"The United States strongly condemns the barbaric murder of Luke Somers at the hands of al Qaeda terrorists during a rescue operation conducted by US forces in Yemen in partnership with the Yemeni government.
"On behalf of the American people, I offer my deepest condolences to Luke's family and to his loved ones."
Mr Hagel, who was speaking during a visit to Afghanistan, said: "Yesterday by the order of the president of the United States, US special operations forces conducted a mission in Yemen to rescue a US citizen Luke Somers and any other foreign nationals held hostage with him.
"There were compelling reasons to believe Somers' life was in imminent danger."
Mr Somers reportedly died after being flown to a US naval ship with gunshot wounds.
A second hostage was also killed in the mission, named by aid charity Gift of Givers as South African teacher Pierre Korkie.
The mission came after al Qaeda in the Arabian Peninsula (AQAP) issued a video on Thursday threatening to kill the hostage within three days if its demands were not met by the US authorities.
It began with a reading in Arabic from Nasser bin Ali al Ansi, an AQAP official, before Mr Somers gave a statement in English.
He said: "My name is Luke Somers. I'm 33 years old. I was born in England, but I carry American citizenship and have lived in America for most of my life.
"It's now been well over a year since I've been kidnapped in Sana'a. Basically, I'm looking for any help that can get me out of this situation. I'm certain that my life is in danger.
"So as I sit here now, I ask if anything can be done, please let it be done. Thank you very much."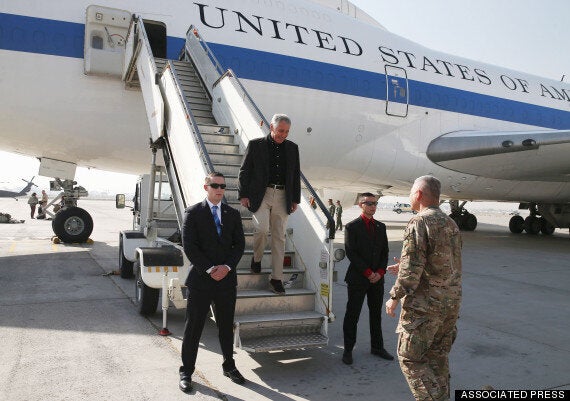 US Secretary of Defence Chuck Hagel arrives on Saturday, Dec. 6, 2013 in Kabul, Afghanistan
The three-minute video also features Ansi speaking about American activity in Afghanistan, Somalia and Iraq as well as recent air strikes in Syria.
The family of Mr Somers, who was captured in September 2013, had earlier pleaded for him to be released.
In an online video Miss Somers described her older brother as a romantic who "always believes the best in people." She added: "Please let him live."
His father Michael said Mr Somers was "a good friend of Yemen and the Yemeni people".
It follows similar videos by another extremist militant group, Islamic State (IS), which has already killed two British hostages and three American hostages in videos released on social media.
IS has posted a series of videos online showing the separate murders of US journalists James Foley and Steven Sotloff, US aid worker Peter Kassig and two British aid workers, David Haines and Alan Henning.
Footage claiming to show Mr Henning's murder appeared on the internet just days after the UK joined US-led air strikes against the terrorists in Iraq.
Foreign Secretary Philip Hammond said he "salutes" the forces involved in the mission and offered his condolences to the families of Mr Somers and Mr Korkie.
"My deepest condolences are with the families of both hostages at this time," he said.
"We utterly condemn AQAP for the brutal murder of these two men.
"Luke had close links with the UK and his family have spoken about Luke's life and his work, and that is how he should be remembered.
"I salute the forces involved, who showed great courage in carrying out this mission.
"We continue to work with our international and Yemeni partners to counter the threat from al Qaida and other terrorist groups."