Filmmaker Segilola Ogidan has taken the challenging subject matter of mixed marriage and turned it into a comedy for the big screen.
"I have a few friends in mixed relationships, and even now they face challenges from family members," she says.
"There are many stories of people enjoying mixing cultures, and feeling a sense of unity, but on the other hand, I've heard of people being disowned by family if they married.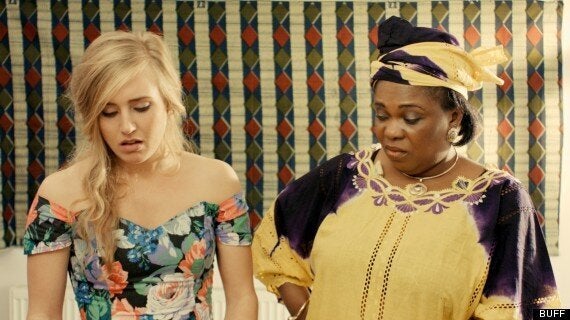 Nice girlfriend, disapproving mother, family wedding in Nigeria... what could possibly go wrong?
'Mum, Dad, Meet Sam', which premiered in London on Saturday night as part of BUFF Africa Season, tells the story of Josiah, an Oxford graduate from a wealthy Nigerian family, and Sam, an English girl who is stunning and intelligent, but not the typical girl Josiah's parents have in mind as the nice wife he should be settling down with.
Despite warnings from her best friend about the challenges she would face with her new boyfriend's family, not to mention the culture shock, Sam accepts Josiah's invitation to meet the family in Nigeria. She fails epically when attempting to impress the parents, and what was supposed to be a special occasion turns out to be Sam and Josiah's worst nightmare.
As Segilola tells HuffPostUK, she wanted to treat a serious subject with a light touch.
"When you are talking about sensitive subjects, it's hard for people to digest. When (fellow writer-producer) Edith Nwekenta came on board, she suggested it became more lighthearted, to make it easier for the older generation to swallow.
"We're challenging their traditional values, and thrusting modernism down their throats. Making it a rom-com, we can include our message of acceptance without being too heavy-handed or preachy."
After screenings and festivals in the UK, Segilola is particularly excited to be taking the film to her native Nigeria.
"I got the story from a conversation with my parents, and a few other people in multicultural relationships. That was my way of exploring the culture clashes, the difficulties.
"And now we're taking the film back to Nigeria. When your motherland accepts you, that's the ultimate."
'Mum, Dad, Meet Sam' is part of BUFF Africa Season. Click here for info on the film. Watch the trailer below...