Oh, little town of Bethlehem… is where filmmaker Leila Sansour returned to visit the place of her childhood, intending to remain for a year. Instead, she stayed for eight and became immersed in a battle to keep the magical place alive, and free from the wall that she saw being built around it.
With population reports supporting her fears that Bethlehem, despite its significance to people of faith all around the world, may not be sustainable to its citizens after one more generation, Leila has documented her campaign of 'Open Bethlehem' in a film that explores the problems and finds some extraordinary characters at the centre of one of the region's most challenging political hotspots.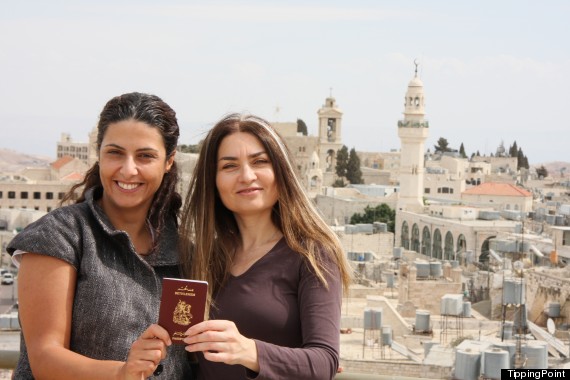 Bethlehem is now surrounded by the Israelis' wall, which requires a visa to cross to visit the neighbouring city of Jerusalem
Leila left herself as a teenager, intent on finding a bigger life elsewhere, but she was drawn back by the memory of her father, who had founded Bethlehem University. For Laila, the biggest change in the city of her childhood has been, inevitably, the restrictions brought about by the Israelis' building of the wall in the West Bank.
"When I was growing up, under direct military rule, that meant lot of restriction, but there was still slight amount of freedom, and an ambition that the previous generation had imparted to us," says Leila now.
"When I came back, it was impossible to imagine that sense of optimism, the sense of restriction is so stifling.
"It doesn't allow the city to imagine any future for itself. And after the wall was built, only 13% of the original city remains. Water resources, landmarks, they've all disappeared onto the other side."
Leila is especially concerned with the growth of settlements in the provincial areas inside Bethlehem, with one such construction threatening to close the last remaining corridor between Jerusalem and Bethlehem, something she says bodes ill for both cities.

Leila Sansour returned to Bethelehem for a year. Instead, she stayed for eight
"Lots of citizens from Jerusalem teach at Bethlehem University, and Bethlehem people seek medical services in Jerusalem," she says, by way of example. "For trade, tourism is our most important industry, and it's almost impossible to organise without this connection.
"And for natives, you need a military permit to visit Jerusalem. From a population of 200,000 people in Bethlehem, only 3,000 visas are issued."
Leila picked up her cameras to document the change, to explain the situation, always in the hope that the wall would not be built, or would come down again "if Bethlehem is to stay alive". Now the wall is firmly installed, her message is the same for a city she wants to move forward, not backward.
"On the one hand, it's parochial, but it's also very international," she says, now basing herself between there and London.
"I want to see the return of many Bethlehem people – industrial, educated – who can apply themselves in this modern city.
"Bethlehem being such an iconic city, it attracts attention in the way that Palestine sometimes doesn't. And there's so much about it that's important.
"We know that the wall won't come down before there's a peace agreement between Israel and Palestine. We want to do our bit to bring that day closer. The only thing that could bring it down is peace."
'Open Bethelehem' is on release in selected UK cinemas now. Click here for info. Watch the trailer below...
LIKE US ON FACEBOOK | FOLLOW US ON TWITTER