UPDATE: Russell Brand Is Called A Bully By Katie Hopkins In Most Hypocritcal Tweet Ever
Russell Brand has apologised after coming in for severe criticism when he tweeted a journalist's mobile phone number to his 8.7 million followers.
That was a bit nuts. He put it thru me door with "please call" on it. They're bothering me Mum. Deleted it. I'm human.

— Russell Brand (@rustyrockets) December 8, 2014
The original tweet showed the business card of Daily Mail reporter Neil Sears who was apparently attempting to get in touch with Brand.
Lord Rothermere and @DailyMailUK avoid tax. One of their senior reporters wants to talk about it. pic.twitter.com/lhzPA4Hhti

— Russell Brand (@rustyrockets) December 8, 2014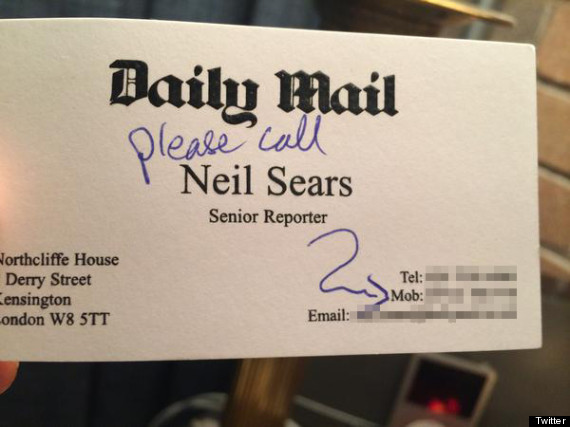 The comedian and activists claims the card was posted through the letterbox of a family member.
@jessicaelgot got that card when it was put through a family members door

— Russell Brand (@rustyrockets) December 8, 2014
An immediate backlash began on Twitter...
Russell Brand tweeting a journalist's phone number is going to work out much worse for Brand than the journalist.

— Charles Arthur (@charlesarthur) December 8, 2014
I don't care who they work for @rustyrockets, but posting someone's mobile number for your millions of followers is not cool.

— Elena Cresci (@elenacresci) December 8, 2014
Russell Brand tweeting journalists personal phone numbers. Just lost whatever minuscule speck of credibility he claimed to have. Prick.

— Jack Vittles (@JackVSport) December 8, 2014
Brand has been embroiled in a media storm over tax affairs over the few days.
Last Monday he was questioned by Channel 4 about the price of his house while attending a demonstration at Downing Street about affordable housing.
During a hostile interview Brand called the reporter a "snide".
He added: "Snides like you undermine it…"
The Sun then proceeded to launch a two-day campaign against Brand calling him a hypocrite and - bizarrely - compared him to a Brussels sprout.
MailOnline columnist Piers Morgan strongly backed the red top's treatment of the comedian in a scathing article, calling the activist a "revolting hypocrite" and comparing him to "sex maniac" Bill Cosby.
Who wants Russell Brand's mobile phone number?

— Old Holborn (@Holbornlolz) December 8, 2014
Beep beep beep, is that a @rustyrockets reversing?! Thought this was a revolution?! Stand up for yourself man!

— Stu Hirst (@stuhirst) December 8, 2014
I'm in the 'Russell Brand tweeting a Daily Mail journalist's mobile number is bad' camp, folks.

— Abi Wilkinson (@AbiWilks) December 8, 2014
At this point @rustyrockets being a bellend is less a headline and more a universal constant, like gravity if gravity was annoyingly verbose

— Chris Sutcliffe (@chrismsutcliffe) December 8, 2014
But Russell has hit back at his critics.
Responding to Friday's story, Brand launched an extraordinary attack on the The Sun and its Antipodean owner, Rupert Murdoch, over its pretense to represent Britain's working class.
"Why is The Sun so keen to prevent ordinary working people from having a voice?" he said on his online news show The Trews.
"They know if they attack me, the issues don't get discussed. The issues are big companies are avoiding tax while ordinary people are getting shafted. The Sun says it's the paper of the people, your Sun, Britain's Sun - but it isn't.
"It's the paper of corporate Britain, of corporate America; it's the paper of crushing ordinary working people, of disparaging and criticising people when they're suffering the most. Victimising us, turning ordinary working people against on another.
"It's about exploitation of ordinary working people, creating sensationalism whilst ignoring the people it's supposed to help."